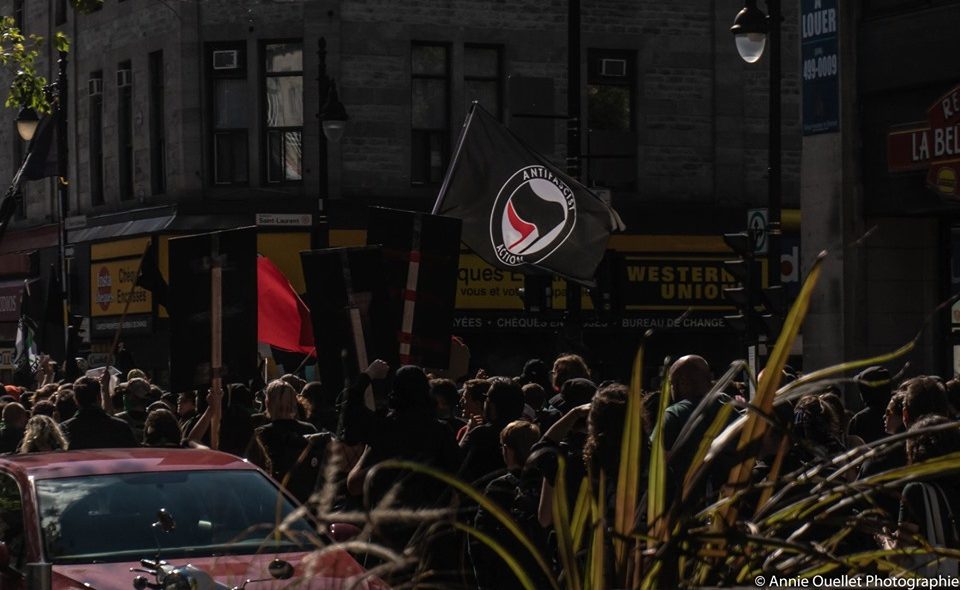 Anonymous submission to MTL Counter-info
"The struggle against climate change can't exist in a vacuum. It must also be a fight against the border system that values some lives over others. It must overthrow capitalism which always strives to produce more."
– Call for the anti-racist and anti-capitalist contingent

"L'air, la terre et les rivières
Ont besoin de révolutionnaires"
("The air, the land, and the rivers
need revolutionaries")
– Chant heard in the streets

"Manif zéro-déchet : police dehors!"
(Zero-waste demo : police out!)
– Chant heard in the streets
On Friday, September 27, in Montreal, between 300,000 and 500,000 people marched in a climate demonstration, and anarchists and other radicals decided not to sit this one out. Amidst the sheer mass of citizenry and their disciplined procession from Mt. Royal Park to Old Montreal, it was difficult to meaningfully shift the tone towards active confrontation with the systems of power and institutions that are making the planet uninhabitable. Nevertheless, thousands of copies were distributed of Toward a Revolutionary Environmental Movement and Climate of Revolt, which both present arguments against reformism, with the latter linking to a map of weak points to the Canadian extractive economy. And in the anti-racist, anti-capitalist contingent, there were glimpses of a climate struggle that doesn't content itself with pleas to the government for an imposed solution, but instead obstructs the operations of the colonial, capitalist, and white supremacist order that depends on ecocide.
Several hundred people responded to the call for this contingent that invited people to wear masks and expand the struggle in liberatory directions. We also heard that many people who were trying to join the contingent couldn't, because the crowd was so big and dense. Early on, it was extremely difficult to move in the packed crowd, especially for a group or for people holding a banner; combined with the knowledge that you're surrounded by hundreds of thousands of people, the feeling tended towards something apocalyptic more than empowering or liberating. After a claustrophobic hour of waiting for the demo to leave and then inching south as the massive crowd filtered into Parc Avenue, the contingent decided to start a break-off demo eastward on des Pins. Close to a thousand people followed us (the cops reportedly warned demo-goers not to join les antifas).
Setting our own pace and with black flags, green smoke bombs, and high-quality music, banners, and chants, it felt like we could breathe again. People started joyfully ripping down federal election signs, and a TD Bank was hit with green paint bombs. Around the same time in the main demo, a brave individual threw an egg at Prime Minister Justin Trudeau, who was booed and heckled throughout the monumental absurdity of his heavily police-protected #ClimateMarch photo-op. Riot police buses appeared behind us only about twenty minutes later, keeping their distance, as we neared the corner of Ste-Catherine and St-Laurent where we rejoined the main demo.
Moving south on St-Laurent, graffiti went up reading "fuck le capitalisme" and "Miguel Peralta libertad" (calling for freedom for the Indigenous anarchist, prisoner of the Mexican state). After turning west on Boulevard René-Lévesque, the contingent took the left side of the street, with the rest of the demo on the right, separated from each other by a tall, fenced median. More paint bombs hit an HSBC branch. Soon after, people used them to redecorate the offices of Citizenship and Immigration Canada and the Immigration and Refugee Board of Canada, which were also tagged with "Migrants Welcome", "Fuck CBSA", and "queer and trans resistance" in gold paint. [A communiqué published the next day explained the connections between climate change and border enforcement]. The contingent crowd cheered, while those on the other side of the street seemed curious or unfazed. We're curious what would have happened if this attack in broad daylight on an institution of border enforcement had escalated.
Instead of lingering around the main demo endpoint on Robert-Bourassa to listen to hours of speeches, the contingent diverged east towards Square Victoria, where we found people occupying the space around the statue of Queen Victoria with plenty of food to be given for free, a banner reading "Temporary Autonomous Zone" draped over the statue, and crowd-control barriers being repurposed to block the road running through the square. It felt great to be able to lie down in the grass after so many hours on our feet – a welcome departure from the end-of-demo experiences we're used to. Over the course of the afternoon, the statue was progressively defaced with graffiti, people danced around a trustworthy sound system, and a wooden structure of some kind was built in the street. There were many cops keeping watch, but it never seemed likely that they would attack the festive gathering, considering it was a block away from where tens of thousands of people from the main demo were still congregating, and that its disruptive impact inevitably paled in comparison to the massive demo's.
An anti-capitalist night demo had been called for 6:30pm, leaving from Square Victoria. The burning of our wooden structure in the middle of the street attempted to set the mood. Unfortunately, the overall vibe did not feel strong. Hundreds of cops mobilized for the main demo had been able to focus on the square for the past couple hours, just waiting for 6:30 by which time they could expect the larger crowds to have left. People were also masking up in ineffective ways, with a prevalence of bandanas, often pulled down around necks (bandanas aren't a safe mask in any case and shouldn't be encouraged). Poor masking practices, which draw risk that multiplies when the cops have had hours to set up surveillance on a static gathering place, diminish our capacity to act and act over long hours in the streets. The demo lasted about three minutes, a nice firework and a volley of rocks hit a group of bike cops, riot cops shut down a metro station by getting pepper spray in the ventilation system, and two people were arrested.
The questions of where, when and how to participate and intervene in climate strike mobilizations still demand reflection and experimentation. However, the 27th showed that anti-capitalist and anti-authoritarian initiatives during a large demo, inside it and on its margins, have strong potential to bring new dimensions to the struggle. The ability to break off and rejoin the main demo in unpredictable ways jumbles the calculations of the police respective to an attack on the demo. A sizeable, clearly marked contingent allows for a separation of space between confrontational tactics and demo-goers who are looking to participate in a lower-risk way, and for people who want to act to find each other in such enormous crowds. And the sheer numbers in the streets mean that many people are being directly exposed to different ways of struggling rather than through media reports and other misrepresentations.