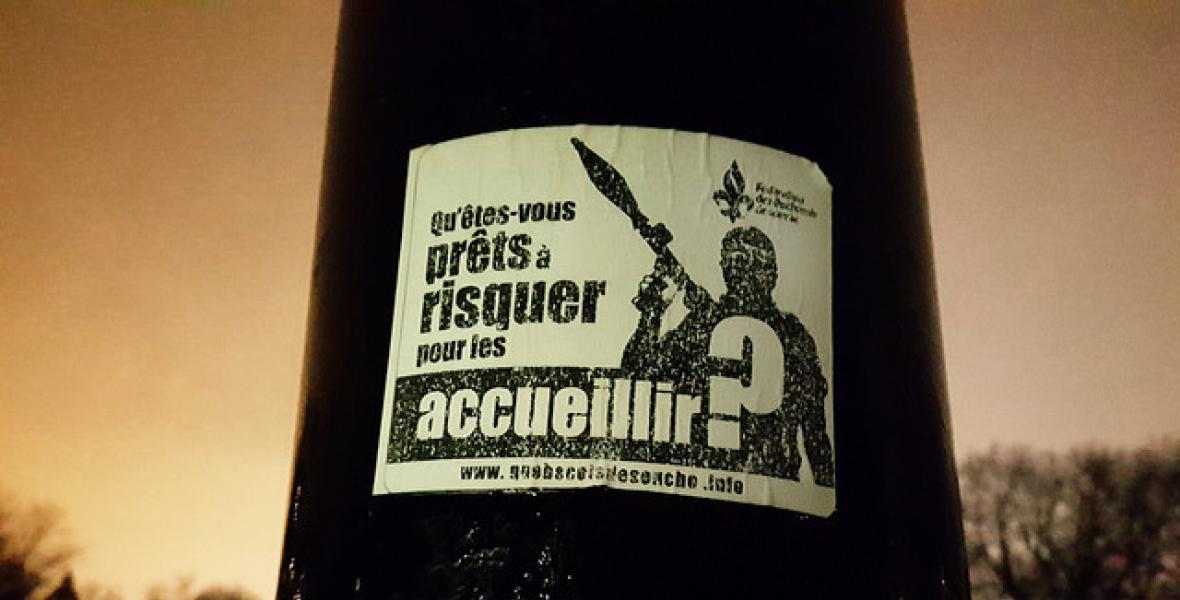 According to Groupe de recherché sur l'extrême droite et ses allié-e-s (GREDA) , there are currently about 60 active Quebecois far right groups, and if you count those which are connected with the rest of Canada, there are about 100. However, once one starts looking at the activities of the groups, there is a lot of collaboration and cross-membership. Provided below is a list of the larger organizations operating in Quebec.
Registered Parties
l'Alliance nationale réformiste du Québec (formerly Front National du Quebec)
Registered with elections Quebec in October 2016, the founder of the party is Daniel Boucher. They aim to field candidates in the 2018 Quebec elections. Among their stated aims are to declare full independence, end reasonable accommodation, end the practice of Islam and destroy every mosque in the province. Boucher claims to have been inspired by meeting Marine Le Pen in March 2016.
Registered as a party in 2012, the current leader of the party is Bernard Gauthier. Citoyens au pouvoir is a populist party. They were at a colloquium of far-right organizations in the suburbs on June 17, and say that they were impressed by La Meute and by some of the organizing.
Founded in 2008, Parti Indépendatiste was led by Éric Tremblay from 2008 to 2011, when Michel Lepage took over. According to the Chief Electoral Officer of Quebec, donations were sixth highest of the provincial parties in Quebec at $5,3350.00. The Parti indépendantiste has been criticised for having links with neo-Nazis. A neo-Nazi, Sebastien Moreau, was the president of the executive committee for the region of Quebec and Marc-Étienne Maurice, a member of the neo-Nazi group Blood & Honour, was a local treasurer.
In May 2017, Alexandre Cormier-Denis, ran for the Parti indépendantiste in the Gouin riding. Cormier-Denis won less than 100 votes — but caused controversy due to racist statements and posters. While most of the media stories about Cormier-Denis were the result of these stunts, his more important ties are to Horizon Quebec Actuel (see below). Despite being promoted by open racists, Cormier-Denis remains a member in good-standing of the Parti Québécois.
Parti unité nationale (formerly the Parti démocratie chrétienne du Québec)
Parti unité nationale was founded in 2000. The founding leader of the party was Gilles Noël and he was re-appointed the leader of the party in 2017. Elections Quebec authorized $16,055 for contributions to the party in 2017 according to the P.U.N. 2016 financial reports.
On June 18, 2017 Gilles Noël was one of the featured speakers at the Rassemblement pour le bien commun et l'intérêt supérieur du Québec (the assembly for the common good and superior interest of Quebec) organized by the Movement Republicain de Quebec and guarded by La Meute.
Large Quebec-based organizations
Fédération des Québécois de Souche (le FQS)
Founded in 2007 by a former skinhead named Maxime Fiset as Quebecers debated reasonable accommodation. The FQS now calls itself a political unifier of "real Quebecers." Maxime Fiset, who now works against racists to help de-radicalize people, has recently been speaking out in French and English press about his role in founding FQS and in being one of the early adopters of Islamophobic organizing.
The group's magazine Le Harfang is run by Remi Tremblay and focuses on publishing and disseminating information from the French far right. On May 6, 2017, the FSQ hosted Steven Bissuel of the Group Union Defense (GUD), a militant nationalist student group from France. Atalante (below) was also a sponsor. Founded in the 1960s, GUD has always been unabashedly far right, "nationalist," and militant. Bissuel has been imprisoned for violent attacks against other students and is also credited with rejuvenating the GUD in Lyon. They were also heavily promoting the June 18 event organized by Mouvement républicain du Québec.
Mouvement républicain du Québec 
Founded in March 2017 by Guy Boulianne, author, editor and cultural promoter. On June 18, 2017, Mouvement républicain du Québec helped organize le Rassemblement pour le bien commun et l'intérêt supérieur du Québec (the assembly for the common good and superior interest of Quebec) originally planned at the CEGEP College de Maisonneuve and later moved to the suburb of Vaudreuil-Dorion. The conference featured a host of well-known far-right speakers. La Meute was providing security for the event. Here is an account in French by GREDA of who was there and what happened.
Founded in 2016, it is known for taking more racist positions than the other organizations in this list. Some of their slogans include "Terrorists to the death! Islam Out!" It does co-sponsor events with the FQS and some members of Atalante are also members of FQS.
In August, 2016 Atalante and FQS co-hosted a lecture in Quebec City by Gabriele Adinolfi, a prominent intellectual of the Italian neo-fascist movement. Atalante also engages in social activism, modeled after CasaPound, the best-known exponent of Italian neo-fascism. Atalante, like CasaPound, are committed to welfare programs and direct action, and Atalante hands out food in Quebec City's underprivileged neighbourhoods, but according to their site, only to people of "Neo-French origin."
An NGO, founded in 2016, with Alexandre Cormier Denis as President. It is a new organization which aims to educate about French and Quebecois history. When it was founded, the Front National and the COMEF (le Collectif Mer et Francophonie), a global sovereigntist organization of which FN is an important part, celebrated the formation of this organization, which is a Quebec affiliate.
The following is pulled from a post by Itsgoingdown.org. Founded in 2015 by two ex-soldiers, Éric Venne (alias Eric Corvus, who since left the group) and Patrick Beaudry, the first major action of La Meute was on May 21, 2016. According to their Facebook page they have a little more than 42,000 members — but likes have never been an accurate way to guage membership.
The group's most vocal position is against "radical Islam." According to GREDA and the experience of protestors in Quebec, La Meute is a paramilitary organization. La Meute members come to rallies well-equipped with weaponry which they are allowed to carry. Since March 2017, they have been coming out in force to numerous anti-Muslim demonstrations across Quebec.
On May 15, 2017 on André Pitre's YouTube show, La Meute announced that it would be making itself available anywhere in Quebec to stand up against "threats to freedom of speech." Pitre and La Meute made it clear that what was meant by this, was any intervention by antifascists, feminists, or anti-racists to protest or disrupt racist, sexist, homophobic or transphobic events. It was also made clear in Pitre's show, that this announcement was the result of Pitre himself reaching out to La Meute and requesting that they play such a role (the declaration was filmed in his living room).
Canadian Coalition of Concerned Canadians (CCCC)
Founded in 2017 by Georges Hallak, CCCC is known as a one-man show. A list of its founding principles can be found here. This group burst onto the scene on March 4, 2017, when along with other far-right groups, CCCC called for demonstrations in 63 cities across Canada. This call was supported by Guy Boulianne's MRQ and others. The CCCC is now losing steam in Quebec. According to GREDA, Hallak is a federalist.
Global groups
Founded in 2015, this group is affiliated with the German group called Patriotic Europeans Against the Islamization of the West. The current president is Stéphane Asselin, and this article from Vice provides an interview with him. According to the December 2016 interview, Asselin helps run a secret page that allies the leaders of most of the province's far right-wing groups — roughly 50 of them — who are working to get political.
Founded in Finland, the group started growing in Canada and Quebec in 2016. By December 2016, they claimed to have 3500 members in Canada and 400 in Quebec. The current head of the Quebec chapter of Soldiers of Odin is Katy Latulippe. Soldiers of Odin have been patrolling neighbourhoods where Muslims live and have also joined Atalante for its food drives.
In the past months, the Soldiers of Odin began splintering in Canada over whether to remain aligned with their racist namesake in northern Europe. The president of Soldiers of Odin Canada, Bill Daniels, denounced the "racist agenda" of Soldiers of Odin leaders in Finland and said his branch was no longer associated with them. However, Katy Latulippe has said that Quebec will dissociate with Soldiers of Odin Canada and, presumably, retain the affiliation with Finland.
While the Canadian chapters have emphasized their community volunteerism, organizing events such as food drives, they have also clashed with anti-racism demonstrators, and posted blatantly anti-Muslim rhetoric on social media.
The politics of the Finland group were previously cited as the rationale for the split within the Quebec Soldiers of Odin where Katy La Tulippe took over and Martin Tregget left the group to form the Storm Alliance. The Storm Alliance is working with La Meute.
Radio
Garbage talk radio (Radio Poubelle) is big business in Quebec as in other parts of North America. Recently two of the prominent commentators Andre Arthur and Jeff Fillon were fired or let go. However, Eric Duhaime, who works with Rebel Media and FM 93, continues to broadcast Islamophobic tirades and others will be there to take their place. An online radio site which often broadcasts Garbage talk radio is Radio InfoCité.
Online
Online sites keep growing. This list is just a smattering. Three popular sites are Vigile.net, the Council of European Canadians, and Novopress, the press outlet of the bloc identitaire. One of the currently active Facebook pages is Justiciers du Peuple: Christian Desrochers and Alain Parent.