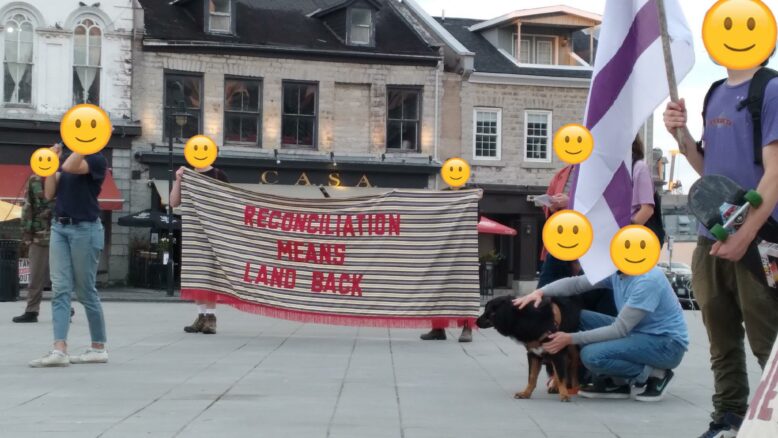 Anonymous submission to North Shore Counter-Info
In response to the call for a week of solidarity actions to defend Wedzin Kwa, about 75 people gathered in Kingston, Ontario on Thursday October 13 for a Wet'suwet'en solidarity rally and march with banners, music and chants. We met up in Skeleton Park and listened to a few different speeches – one person spoke about how indigenous land defenders are leading the way in the fight against climate change and ecological destruction. Another shared an excerpt from a zine critiquing state-led reconciliation efforts. One person gave a powerful speech about the necessity of clean water for indigenous communities and for everyone, and reminded us all that showing up and participating in this struggle was meaningful and important. We marched down Princess St and handed out hundreds of flyers to a largely supportive crowd.
The Wet'suwet'en fight to defend their unceded territory from colonial invasion and resource extraction has inspired us for a long time. We were also very inspired by the successive waves of Shut Down Canada solidarity actions that took place all across so-called Canada right up until spring of 2020, including here in the Kingston area. We are angry that Coastal GasLink and the RCMP continue their attempt to push through this destructive pipeline project – but we will say that it felt good to come together in solidarity once again, break through some of the lingering pandemic isolation, and recognize the commitment, energy and strength that exist in our community.
We hope this small contribution to the Week of Action sends hope and encouragement to the folks at Coyote Camp, members of the Gidimt'en clan and their allies, currently holding it down and blocking construction. We are watching, we are ready to act and we've got your back.