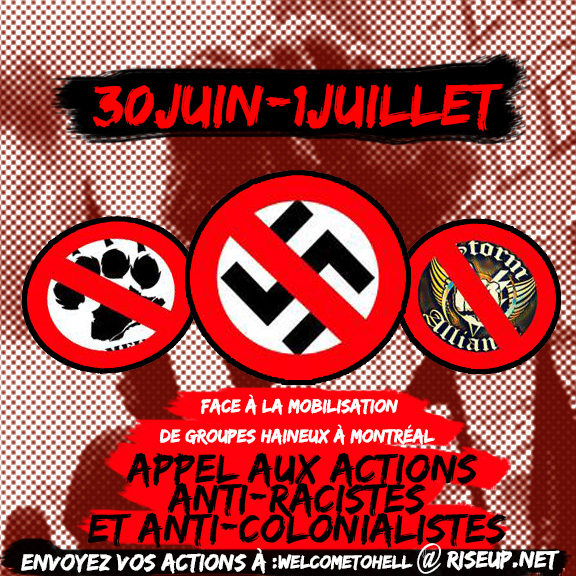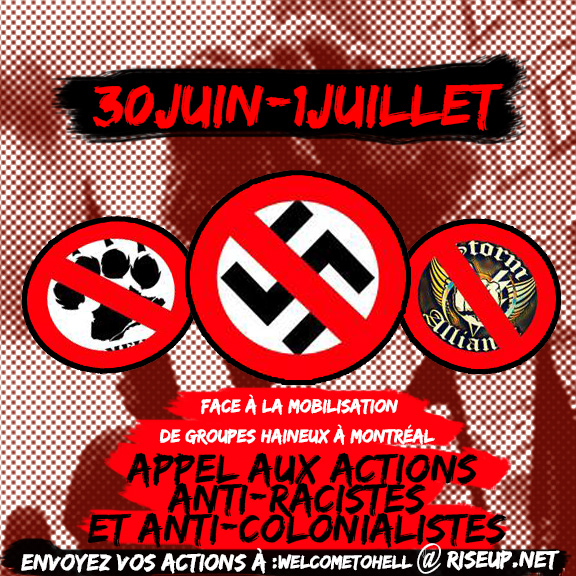 Anonymous submission to MTL Counter-info
On July 1, hate groups like La Meute and Storm Alliance have announced a demonstration in Montreal against illegal immigration. Not a good move, because we do not like racists and we do not like July 1st, the colonial Canada Day.
The racists forget where they are about to step foot … Montreal is against racists and we will remind them. It will take more than dozens of riot police to allow them to demonstrate.
We call ALL people who have something to say about the presence of these racists to react with concrete actions, everywhere in the province:
– the weekend of June 30 – July 1, multiply direct or symbolic actions against racism and colonialism.
– until July 1st, redecorate the city with stickers, graffitis, posters, etc … so that everywhere one reads only one message on the walls of the city: "Fuck La Meute"
A gray wall near you? Leaflets to distribute? An address that you've been keeping for the right occasion? Some posters to put up in your neighborhood? It is time :)
Let's strike everywhere. It's a collective responsibility.
Send us your photos and reports to welcometohell@riseup.net