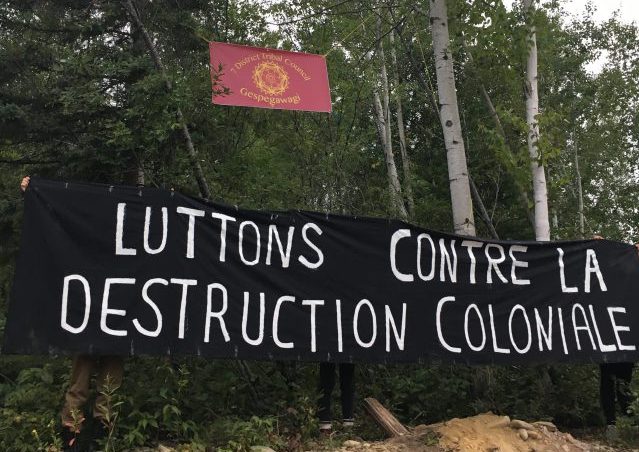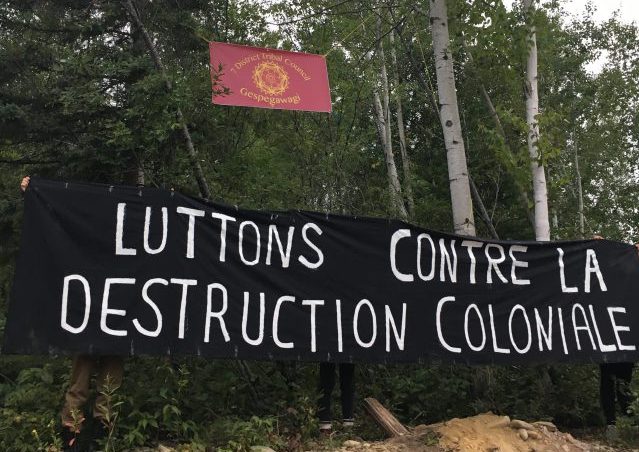 From Ni Québec, ni Canada
The 28th of February is the next court appearance of Freddy Stoneypoint at the Palais of (In)justice of Percé. The legal bozos of perpetuated genocide will evaluate if the evidence gathered by the armed wing of the Quebecois state, (in service of Junex), are sufficient to commence the circus—-in other words, whether the trial will take place. These supporters of a deadly economy are acting completely illegitimately on sovereign Mi'kmaq territory (more precisely on the unceded sovereign 7th District Mi'gmaq territory as affirmed by the 1763 Royal Proclamation indian lands protection clause).
Gary Metallic, the traditional chief of the 7th District of Mi'kma'ki, sovereign territory of the Mi'kmaq people, served a tresspassing notice to Junex, but Junex is not on trial. Only an indigenous comrade of the Mi'kmaq people in struggles, Freddy Stoneypoint, is persecuted, because he was supposedly at a blockade to defend the territory, blockade that was hold with the authorization of Gary Metallic, the traditional chief. Gary Metallic has repeatedly reasserted his people's refusal of the extraction of fossil fuels. Despite the fact that the Mi'kmaq never abandoned their sovereignty, the Quebecois state continues to repress comrades arrested for resisting extraction and for the recognition of Mi'kmaq sovereignty.
As comrades of Freddy Stoneypoint and the Mi'kmaq people, we call for the 28th of February to be a day of solidarity and action for the complete and total liberation of those accused under colonial law. We call for the recognition of Mi'kmaq sovereignty, land and struggle, and for the sovereignty of other native territories. And we stand against the extraction industry.
We would also like to underline with this action our solidarity with the River Camp and Treaty Truck House against Alton Gas.
Whether we're in Gespe'gewa'gi or elsewhere, let's continue to work in the spirit of total resistance for decolonization, the sovereignty of native people, and for life.
Statement from Freddy Stoneypoint:
As a sovereign man who is indigenous to Turtle Island, my rights and responsabilities include practicing ceremony and walking on the land with love and respect. I am not an activist. I am simply an Anishnaabe man concerned with the unborn and the safety of the lands and waters they rely upon. I am thankful towards the many folks, ranging from all walks of life, who have been supportive of the kindship and relationality that I hold for the sacred. Miigwetch.
For more information:
Legal fund for Freddy Stoneypoint
7th District Tribal Council of Gespegawagi