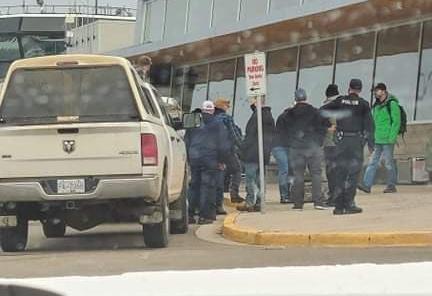 From Gidimt'en Checkpoint
A charter plane full of RCMP have landed at the Smithers airport, with between 30 and 50 officers equipped with camo duffel bags.
Police loaded onto two buses and unmarked, rental pick-up trucks and headed out towards the yintah. An RCMP helicopter is reported to be heading to the area. Throughout today, helicopters have circled over our camps, conducting low, deliberate flights for surveillance.
The road into our yintah remains blocked by RCMP at 28km, with hereditary chiefs, food, and medical supplies being turned away.
In the middle of a climate emergency, as highways and roads are being washed away, and entire communities are being flooded and evacuated, the Province has chosen to send busloads of police to criminalize Wet'suwet'en water protectors and to work as a mercenary force for oil and gas.
We will not back down. We need all eyes on Wet'suwet'en Yintah. We need boots on the ground. We need solidarity actions throughout Canada.
#ShutDownCanada
#AllOutForWedzinKwa