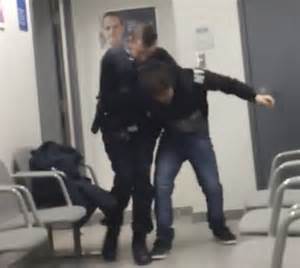 Anonymous submission to MTL Counter-info
Gathering at Place Émilie-Gamelin, tonight (February 1) at 19h
With every bullet, we are reminded that the police are murderers. Yesterday, they once again opened fire on someone – an 18 year old who remain anonymous – who was acting with hostility at the courthouse in Maniwaki. Last summer Pierre Coriolan was gunned down by the police while he was having a mental health crisis. In the winter of 2016, Bony Jean-Pierre was murdered by police. As long as this deadly order is imposed on us, we will not forget, and we will not forgive.
We don't yet know whether this young man who was shot in the head will survive, and if so, in what state. Let's remember that shootings like these are only a visible fraction of the rampant police harassment that many face on a daily basis, a type of violence that makes up the foundation of the colonial, capitalist and statist order.
This attack is a drop of water in the ocean of police violence. But we refuse that it becomes just another statistic, another passing moment of outrage that nourishes cynicism.
We call for a demo to stop the automatic movement of daily life, and to honor life that rises against the order of the police in a thousand and one ways.
We call for a demo in the hope that it won't be just an image of protest against the violence and absurdity of the world, but so that fear can actually switch sides.
Let's come together to brave the frozen winter (the forecast is 3 degrees, so come!!!) and act against this terrible event.
Fuck every cop, their friends, sympathizers, and anyone not willing to choose a side.
No peace in the street with the police in the streets!