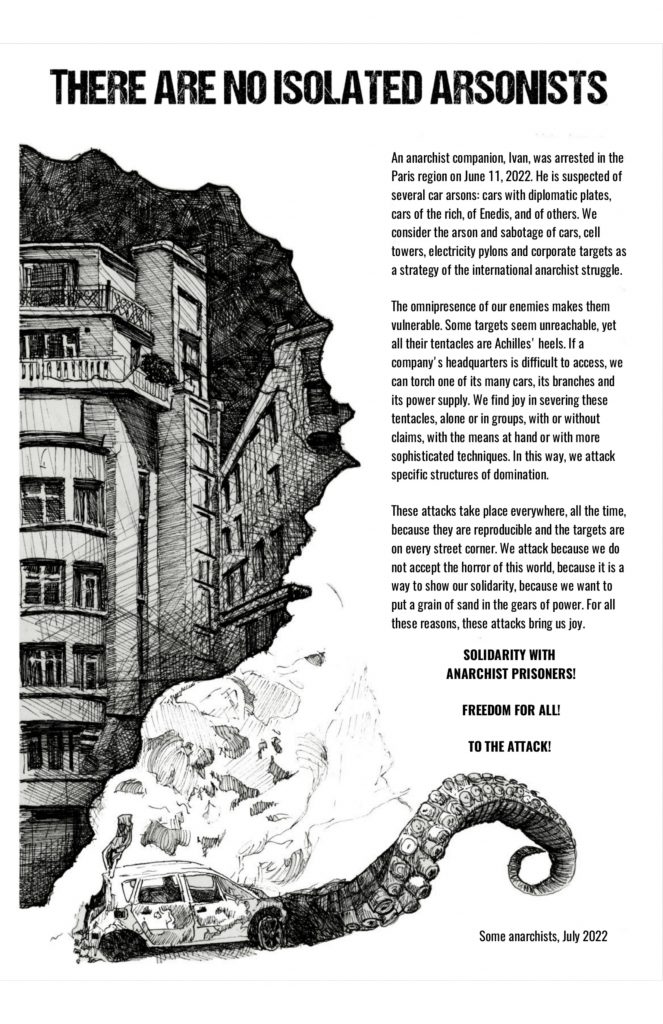 From Indymedia Lille, translation by Act for Freedom Now!
Poster to download (PDF, 11 x 17)
There are no isolated arsonists
An anarchist companion, Ivan, was arrested in the Paris region on June 11, 2022. He is suspected of several car arsons: cars with diplomatic plates, cars of the rich, of Enedis, and of others. We consider the arson and sabotage of cars, cell towers, electricity pylons and corporate targets as a strategy of the international anarchist struggle.
The omnipresence of our enemies makes them vulnerable. Some targets seem unreachable, yet all their tentacles are Achilles' heels. If a company's headquarters is difficult to access, we can torch one of its many cars, its branches and its power supply. We find joy in severing these tentacles, alone or in groups, with or without claims, with the means at hand or with more sophisticated techniques. In this way, we attack specific structures of domination.
These attacks take place everywhere, all the time, because they are reproducible and the targets are on every street corner. We attack because we do not accept the horror of this world, because it is a way to show our solidarity, because we want to put a grain of sand in the gears of power. For all these reasons, these attacks bring us joy.
Solidarity with anarchist prisoners!
Freedom for all!
To the attack!
Some anarchists, July 2022