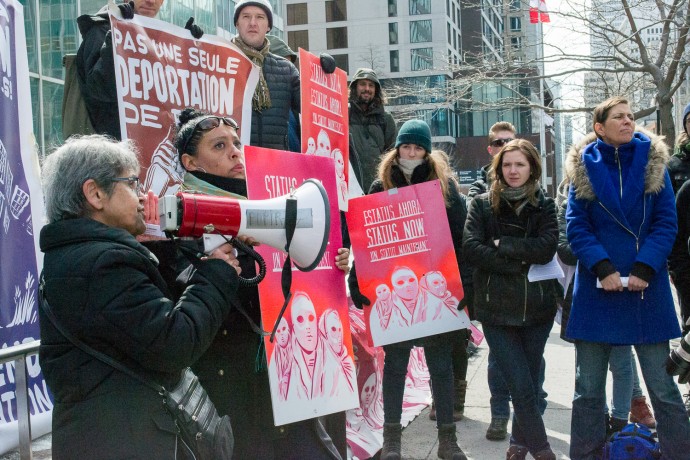 Anonymous submission to MTL Counter-info
At 6am on Tuesday morning, 20 March, CBSA burst into the home of Lucy Francineth Granados, an undocumented woman very active in the Non Status Women's Collective of Montreal. The CBSA officers used completely unnecessary force, injuring Lucy's arm, which is visibly swollen. Lucy is currently in the Laval Detention Centre and faces imminent deportation to Guatemala. A detention review hearing was held Thursday at 12:30, with a support rally outside.
They refused to release Lucy. They plan to deport her on Tuesday, 27 March. We must redouble our efforts!
Protest Friday, 23 March at noon at City Hall: Plante speak out!
https://www.facebook.com/events/349480625555973/
Solidarity Across Borders and the Immigrant Workers Centre are calling on Public Safety Minister Ralph Goodale to suspend the deportation until Lucy's pending immigration application is accepted, demanding that Immigration Minister Ahmed Hussen accept her immigration application before she is deported, and asking Mayor Valérie Plante and the City of Montreal to publicly support Lucy and stop her deportation in light of their Sanctuary City policy.
== Background ==
Lucy is the sole financial support for her three children. They live in Guatemala with their grandmother and depend entirely on the remittances sent by their mother for all their basic needs (food, shelter, school fees, etc.). If Lucy were deported, her children would immediately lose their sole source of financial support.
After being threatened by the Maras, Lucy traveled alone through Mexico on the infamous La Bestia train to the US and later to Canada, her husband having died. Her refugee application was refused but she remained in Canada undocumented in order to be able to continue to support her children. She has lived in Montreal for 9 years.
Last summer Lucy filed a humanitarian application for permanent residence in an attempt to regularize her status. In January, a CBSA officer informed her lawyer that Lucy's file would not be studied unless she turned herself in to face deportation. However, Canadian immigration law says that the Minister must study all humanitarian applications inside Canada; the CBSA officer's misrepresentation was illegal. Neither Immigration Canada nor CBSA have responded to her lawyer's request to clarify the situation and activists are calling on the Minister to investigate the CBSA officer and bring charges if warranted (1), fearing that such actions could prevent undocumented migrants the possibility of regularizing their status.
According to Immigration Canada, Lucy's file is in fact being evaluated, and a response would normally be expected imminently if she were allowed to remain in Canada. Unless Minister of Public Safety Ralph Goodale intervenes to suspend the deportation, Immigration Minister Ahmed Hussen expedites processing of her file, or the City of Montreal takes its responsibility seriously, Lucy will likely be deported before her file is determined.
Source: Solidarity Across Borders and Immigrant Workers Centre
Contact:
solidaritesansfrontieres -at- gmail com
Background: www.solidarityacrossborders.org