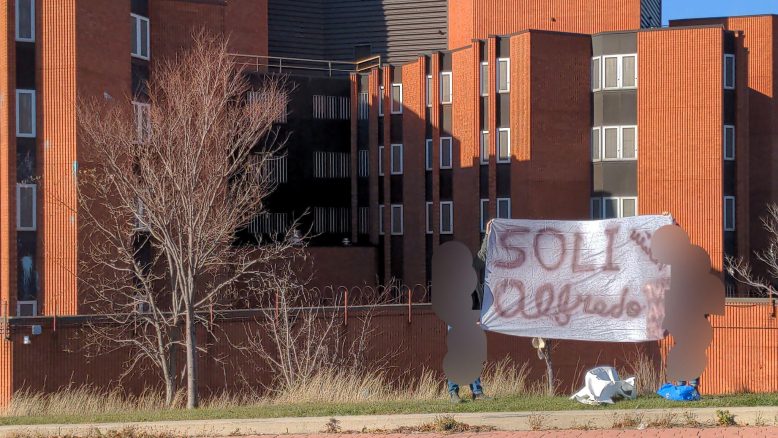 We were out holding up a banner with a phone number on it to connect with prisoners at the Barton jail in Hamilton, Canada, the way we usually do, but we thought we would also take a moment to express our solidarity with anarchist prisoners in struggle.
Alfredo Cospito has been on hunger strike in Italy's Bancali prison since October 20th to demand that he be moved out of segregation and have his phone calls, mail, and visits restored. He was placed in these conditions back in May essentially to punish him for staying involved in the anarchist struggle from inside.
As the Barton Prisoner Solidarity Project, we strongly believe in not leaving prisoners behind and in supporting them when they struggle against the prisons that oppress them. Some of us have done time and others have supported their locked up friends, and we all know how important and valuable it is to keep anarchist prisoners present in our lives. Not as an act of charity for people who are locked up, but because of the comradeship and valuable contributions they can still make.
Ivan Alocco, Anna Beniamino, and Juan Sorroche are also anarchist prisoners who launched hunger strikes in solidarity with Alfredo, and we extend our solidarity to them as well. It is only through the multiplication and convergence of struggles that we gain the power to win, and know that as we work with prisoners in Barton to destroy prison here, all of you are in our hearts.
Our ugly, quick little banner is a small gesture, but know it represents your presence alongside us in struggle.