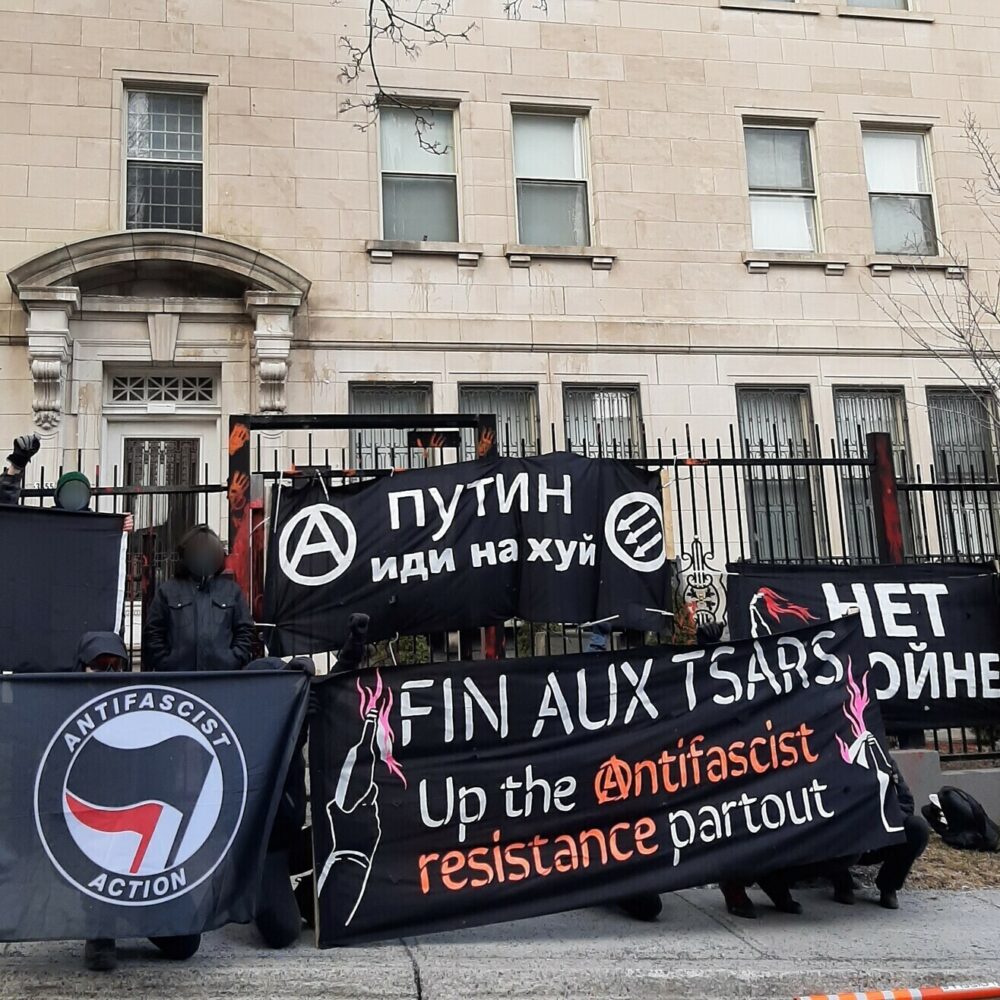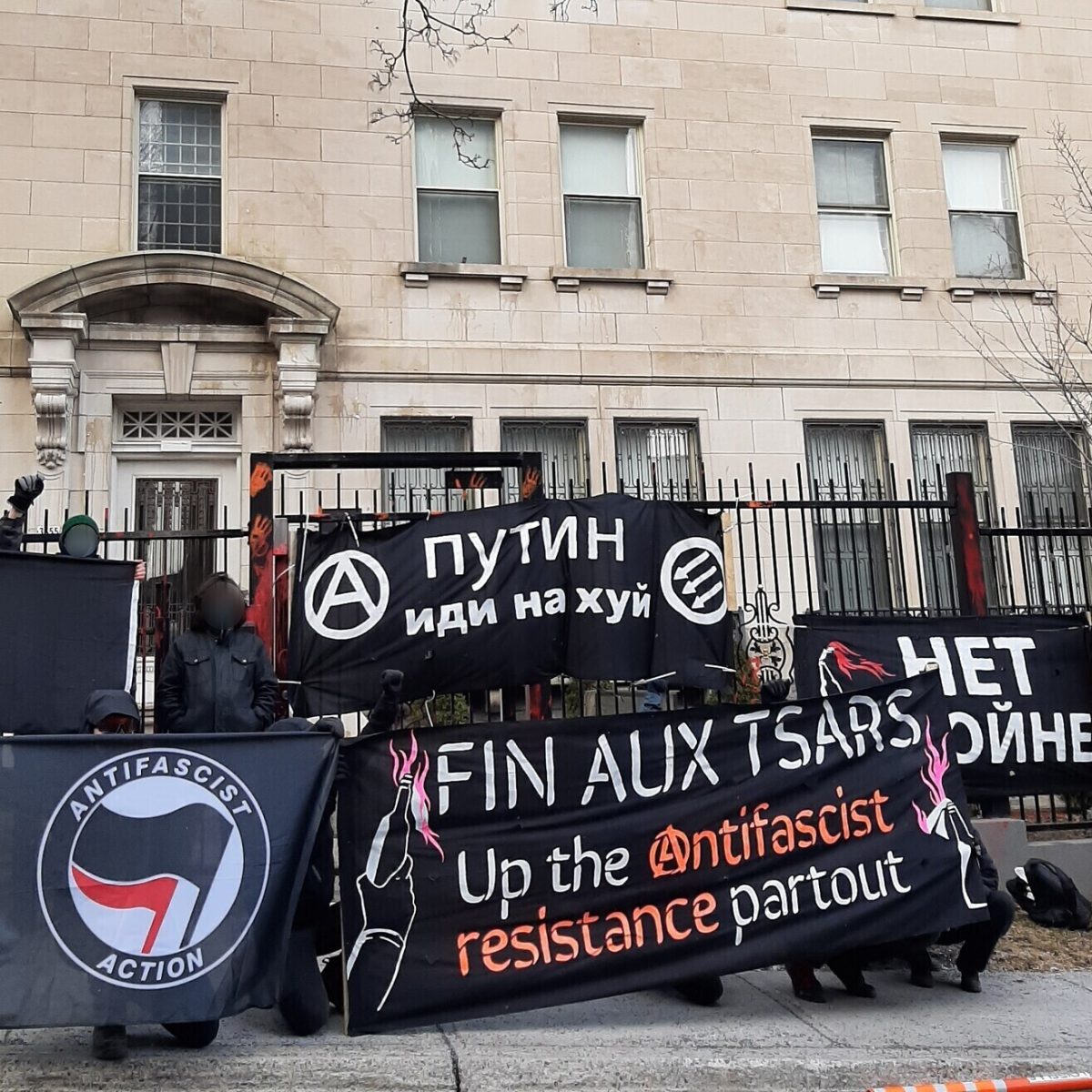 Anonymous submission to MTL Counter-info
On Sunday, March 27, 2022, a small but determined group of anarchists marched to the Russian consulate in Montréal, in solidarity with anarchists, anti-fascists, and anti-war movements active in the territories of Ukraine, Russia, and Belarus. We held up banners saying: "НЕТ ВОЙНЕ" (No War); "ПУТИН: ИДИ НА ХУЙ" (Go fuck yourself, Putin); "Solidarity with UKR[ainian] and RUS[sian] War Resisters"; "Fin aux Tsars! Up the Ⓐntifascist resistance partout"; and the anti-fascist flag. Despite our small numbers, we briefly took the streets, blasting a very sick playlist of mostly Ukrainian and Russian pop music and post-punk tracks. When we reached the consulate, we ziptied the "НЕТ ВОЙНЕ" and "ПУТИН: ИДИ НА ХУЙ" across the gate doors on the front of the consulate. We read the following communiqué from an action that had targeted a recruitment centre near Moscow in early March:
The other day I set fire to the military registration and enlistment office in the city of Lukhovitsy, Moscow Region, and filmed it on gopro. I painted the gate in the colors of the Ukrainian flag and wrote: "I will not go to kill my brothers!" After which I climbed over the fence, doused the facade with gasoline, broke the windows and sent Molotov cocktails into them. The goal was to destroy the archive with the personal files of conscripts, it is located in this part. This should prevent mobilization in the district. I hope that I will not see my classmates in captivity or lists of the dead. I think it needs to be expanded. Ukrainians will know that in Russia they are fighting for them, not everyone is afraid and not everyone is indifferent. Our protesters must be inspired and act more decisively. And this should further break the spirit of the Russian army and government. Let these motherfuckers know that their own people hate them and will extinguish them. The earth will soon begin to burn under their feet, hell awaits at home too.
As we left, several people egged the consulate.
The following are reflections from a few participants in the demo:
We want to make our reasons for participating in this action clear, and to explain why we think it is essential to support the anarchists, the anti-fascists, and the broad masses of people resisting the invasion in Ukraine — as well as all those in the region who are opposing the war, sabotaging the war machine, and helping refugees and people fleeing the conflict.
1. We have acted in solidarity with anarchists and anti-fascist comrades resisting the invasion, and with love in our hearts for expressions of autonomous and anti-fascist resistance against the invader.
It should go without saying, but as anarchists, we oppose hierarchical military institutions, and consider neo-Nazis like those who founded the Azov Regiment to be our enemies. We understand that the nature of territorial defense in response to an invasion makes deciding how to engage incredibly messy for people on the ground. We know that the territorial defense units (voluntary 'civilian' units) in Ukraine are subject to the Ukrainian state's command structure — in theory, if not always in practice. From what we understand, anarchists and anti-fascists in Ukraine are organizing together (and with locals) within these units to carve out as much autonomy as possible for themselves and their ideas, while also surviving heavy shelling, missile strikes, and the targeted murder of civilians (among other horrors). We think that the experiences of the regular people that are currently being bombed, raped, displaced, tortured, and killed, must be at the heart of any analyses we put forward, or actions we take.
So, we declare our support for anarchists in Ukraine, both those who were there before the invasion began, and those having more recently entered the country. This does not mean that we think they are beyond critique. Rather, it means that we respect and support their decision to stay and fight, or the decisions of those who have chosen to go and fight by their sides. We think that this kind of armed self-defense is consistent with a long history of anarchist resistance to the expansion of authoritarian regimes. Present-day Ukraine differs from Rojava, Chiapas, and other 'revolutionary' territories; it is a deeply flawed capitalist democracy with marginal liberatory social movements. Nevertheless, it is clear that a life under Putinist Russia would be far less free. This reality is reflected in the fierce resistance to Russian advances.
Competing visions of society will no doubt emerge in the rubble of war: some liberatory, many more deeply horrifying. Regardless of how the war progresses, we think it will be essential that there are people in Ukraine who share our ethics and values. For years, anarchists in Ukraine have been actively organizing against both the Ukrainian state and the local far-right. In the months and years to come, they will be the ones best positioned to continue to fight nationalism, fascism and any manifestations of centralized power and authority. They are also the people who will best generalize anarchist ideas and actions in their own context. We want to see these people survive and flourish.
2. We act in solidarity with all those who have fled Ukraine, and we support initiatives that help people continue to flee. We are against borders, against conscription, and against any privileging of those with Ukrainian passports and/or 'whiteness'.
There has been a marked difference in how the Canadian state and mainstream society have responded to Ukrainian refugees, as compared to refugees from Libya, Sudan, Syria or other non-European countries. We see this not only in immigration policy decisions, but also in the rhetoric of the Canadian government, which has stated that "Ukrainian immigrants have helped build this country". This statement refers to the waves of Ukrainian immigrants who fled immiseration under the Russian and Austro-Hungarian empires, and later, under the Soviet Union. During the first immigration wave of the 1890's, Ukrainians were 'recruited' to Canada as cheap, non-British, labourers, used to build rail-lines and to 'settle' indigenous and Métis lands in Western Canada.
The disposibility of these immigrants was made clear when, under the War Measures Act during WW1, members of these same Ukrainian communities were deemed 'enemy aliens', and sent to internment camps. In 1919, Ukrainian communities, tired of exploitation, participated extensively in the Winnipeg General Strike, where the North-West Mounted Police (yes, those same NWMP established to supress indigenous rebellions and enforce the reserve system) massacred some 80 striking workers. The years that followed were filled with xenophobic panics about the 'dangerous foreigners' fomenting labour radicalism.
Canada always has, and always will, pit dis-enfranchised people against one-another to maintain and expand its capitalist and colonialist project. It makes immigrants fleeing misery into the shock troops of colonial expansion. It embraces 'model' refugees in order to discredit migrants who have crossed borders for reasons that the state deems 'illigitimate.' However, we believe firmly that people can refuse to be tools of the state. Instead, we can be inspired by our own stories of disposession to build powerful solidarity with one another.
We have also read the stories of black, brown and Roma people trying to flee Ukraine, who have faced racism, and received less support than white refugees. In a context where racist, islamophobic, and anti-immigrant hysteria is on the rise in Europe, it is not hard to see how racism has fundamentally structured the metting out of sympathy and support afforded to different people fleeing war. It should be noted, however, that the many Ukrainian guest-workers currently living in Western Europe have rarely been received with the same compassion and enthusiasm that Western countries are now expressing towards war refugees. The degree to which Ukrainian refugees are currently being embraced as 'fellow Europeans' was hardly a given.
As anarchists, we do not accept an analysis whose only conclusion is resentment towards the Ukrainian refugees who have, undeniably, been treated better than non-European refugees in similar circumstances. For instance, it shouldn't be surpising that Canada (a country founded on genocide) is once again making racist immigration policy decisions. However, these infuriating disparities should never become a justification for inaction, or a reason to withhold solidarity from people who need it. Instead, we will continue to take action and organize against borders, and to destroy the values of white supremacy that shape our world. We hope that among those who are just now becoming acquainted with the horrors of war and displacement, we will find new comrades who will join us in standing against racist borders everywhere.
Support all migrants, fuck all borders, free movement across invisible lines for everyone, always.
3. We act in solidarity with those who take action against the war and its profiteers in Ukraine, Russia, Belarus, and in "the West."
In Russia, many thousands have been arrested for protesting the war by an increasingly autocratic and repressive regime. In North America, we have seen people target the weapons contractor Raytheon. In Western Europe and Turkey, there have been actions against the mansions and property of Russian oligarchs. In Belarus, there has been a campaign of sabotage targetting the rail lines that transport Russian troops to Ukraine.
We are also inspired by the long history of anarchist anti-militarism, and sabotage of the war industry. It is important to identify how the nations we live in (and our local capitalists) profit from this war, and to target them accordingly.
4. We have acted in accordance with our principled belief that, all throughout history and all across the world, people should be supported when they defend themselves against destructive invaders.
We have noticed that mainstream Canadian media is suddenly quite excited about regular people making molotov cocktails and attacking tanks with tractors. While it's great to see support for people defending themselves, in our own context, let's not forget to support Indigenous land defense too. We support community autonomous action and self-defense against destructive invaders everywhere: from the Wet'suwet'en yintah in so-called "British Columbia"; to the streets of Kharkiv and Kyiv; to Rojava, Yemen, Palestine, and beyond!
5. We have acted with the knowledge that Western countries are also finding ways to profit from the war.
In Canada, we can see how sanctions against Russian energy imports and the pause on Nordstream 2 have been used to shift European fuel reliance towards Canada and the U.S. This benefits the owners of U.S. and Canadian energy companies, and further threatens Indigenous land defenders who have been fighting against fossil fuel exploitation and for sovereignty in their territories. While we think that pointing to "NATO aggression" as the root cause of the war is a deeply-flawed and myopic analysis, it is clear that Western powers have been more than happy to leverage the war towards their own ends. We have no problem extending a big Fuck You to NATO as well.
6. We will never act in solidarity with nazis.
Much of the discourse about the war that we have seen coming out of certain parts of the left has emphasized the existence of the Azov battalion, and speculations about the role of the far-right in Ukrainian society. In the past decade, Ukraine (like most every country in the world) has seen a resurgence of far-right, authoritarian, and ethno-nationalist sentiment. While this is certainly concerning (especially for Ukrainians), Ukraine is hardly unique in this regard. Nor is it unique in having found adherents of far-right ideologies involved in its military. What's more, in recent years, it seems that Ukrainian society has fared no worse than the societies that gave rise to the likes of Trump, Éric Zemmour, or the AfD.
What has perhaps been unique in the Ukrainian context, is a war that has been ongoing for eight years. The war in Donbas not only galvanized local fascists, but has notably attracted far-right adventurists from Western countries seeking-out battlefield experience. These contemptible grifters have fought enthusiastically on both Ukrainian and Russian sides of the war, depending on the particular flavour of fascist ideology that they subscribe to. (And, for all his talk of "denazification," Putin himself is by far the premier backer of far-right movements all over the world.)
Fascists of all stripes will tend to try to leverage war and conflict towards their own ends, and this war will be no exception. We suspect that in this context, the best antidote to armed neo-nazis intent on expanding their social base, is in fact, well-organized, armed anti-fascists. We strongly reject an analysis that frames any anarchist who has taken up arms in this situation as a nazi-collaborator. The fact that both anarchists and neo-nazis have independently taken up arms in the face of military invasion by no means implies collaboration. To be clear, we think that such hypothetical alliances would be completely unacceptable, and ones that we would refuse to ever support. However, anarchists in Ukraine have long been at the forefront of countering local nazis, and we believe that materially supporting these anarchists is one of the best ways to help them maintain an uncompromising anti-fascist position under incredibly challenging circumstances.
We really shouldn't have to say this, but the vast majority of Ukrainian civilians currently being bombed, shelled, killed, tortured and displaced are most certainly not neo-nazis. Given that 'denazification' has been the crude and increasingly exterminationist rallying cry for Putin's vicious, imperialist war, it feels especially important to be clear and intentional in how we discuss the (real, but relatively marginal) presence of neo-nazis in Ukraine.
——————————————————————————–
War is fucked, and it isn't always clear what anarchists anywhere should be doing in this context. We inform ourselves by reading interviews with anarchists on the ground, by talking to friends and family who are more closely connected to the events, and through critical and analytical discussions within our circles. Deciding that this situation is too complex to engage with would only cede space to ideologues, who simplify and cherry-pick history and current events in order to build arguments that benefit their economic interests and political cliques.
This time we were a small group, but we hope to inspire other anarchists around us to engage with this conflict. We will continue to mobilize the rage and heartbreak we feel at both the mass graves in Mariupol and Bucha, and at the structural racism that underwrites indifference to bombings and displacements elsewhere in the world, in order to act in solidarity with all people suffering due to geo-political machinations and imperialist ambitions.
Solidarity with the inheritors of the anarchist tradition in Ukraine!
Solidarity with the anarchist and anti-fascists arrested and currently detained in Belarus, for allegedly disseminating anti-war and anti-police materials!
Solidarity with all the anti-war arsonists, hackers, and demonstrators in Russia!
Solidarity with the London Makhnovists, the yacht blockaders in Turkey, and all others taking direct action against the holdings of the Russian ruling class around the world!
Against great games and autocracy! For anarchy and self-determination!
The Montreal Sholom Schwarzbard Crew