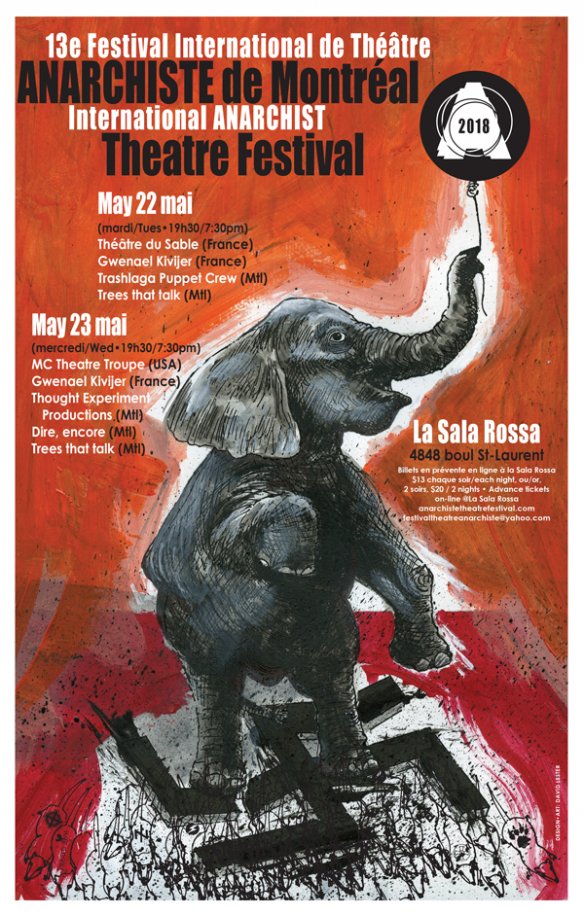 From The Montreal International Anarchist Theatre Festival
The thirteenth annual Montreal International Anarchist Theatre Festival (MIATF) – the world's biggest and only anarchist theatre festival – will present 20 artists (seven troupes) from the USA, France and Montreal for two nights of provocative, socially engaged, freedom-loving theatre, Tues May 22nd and Wed May 23rd, at La Sala Rossa, 4848 boul St-Laurent, 7:30pm.
Tickets $13 each night, or $20 for a two-night special, available at the door or online. No reserved seats.
Program highlights include the classic, Waiting for Godot, reinterpreted by two afro-American women; the story of a sheepherder inspired by the letters from three French political prisoners; outraged puppets from Montreal's Hochelaga 'hood portraying the results of gentrification for populations living on the margins, and the inspiring stories of six anarchist women who resist Fascism from Italy to Syria, from the 1920s to today.
Tuesday May 22nd:
• Pisser dans l'herbe…, Théâtre du Sable (France)
• Chansons anarchistes, Gwenael Kivijer (France)
• Trashlaga Puppet Crew, Trashlaga Puppet Crew (Mtl)
• No way! No way! (part I), Trees that Talk (Mtl)
Wednesday May 23rd:
• Didi and Gogo, MC Theatre Troupe (USA)
• Chansons anarchistes, Gwenael Kivijer (France)
• The Wah-Wah Pedal, Thought Experiment Productions (Mtl)
• Darwin avait raison, Dire, encore (Mtl)
• No way! No way! (part II), Trees that Talk (Mtl)