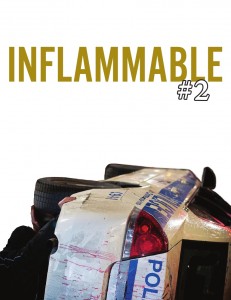 Read (8.5″x11″ | PDF) 
Print (11 x 17″ | PDF)
Light it up!
Texts, communiqués, and reportbacks primarily from Montreal…
moments of revolt that warm the heart…
"The moment where we take back our lives, where we free ourselves from morality, fear, and the identities imposed on us. It cannot be stopped by a negotiation table, nor a ballot box. It isn't the beginning of a movement nor will it die with a movement: It is to be alive, free, and wild!"
This issue is for all those who have weathered repression this last year.
For all the strong hearts willing to put their freedom on the line.
Inflammable #2
Demos and Actions beginning in September 2011
Against borders, police, prisons, and fascists / Solidarity with the G20 prisoners!
The strike begins: February 2012
On solidarity with "social movements" – open letter to anarchists / The occupation of Cégep du Vieux Montréal
March
Student action and demonstration against police / Wild demo, citizen-cops, solidarity with the Innu, and the pigs' revenge / March 15 fucks up the cops
April
Actions and confrontations / Plan Nord – Plan Mort / The revolution will not be quiet
May
Anti-capitalist May Day / The battle of Victoriaville / Smoke bombs in the metro / La loi spéciale, on s'en câlisse! / An anarchist perspective on Bill 78 / May 22 / Imaginary "casseurs". Ninjas vs. Pirates / Solidarity means attack
June, July, August
The spectacle begins / On pacifism…debunking some widely held ideas / Claim for railroad sabotage / Attack against police. G20 repression. August 1 / Le Pavé / Convergence for the Rentrée
Afterword
Action chronology from 2008-2011