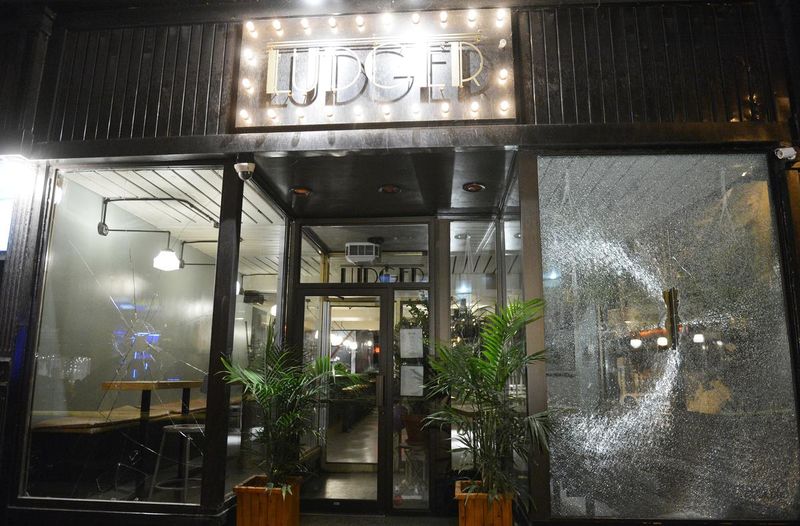 Anonymous submission to MTL Counter-info
On the night of May 19, we decided to come together to attack the restaurant and bar Ludger, the offices of Projet Montréal, and the IGA supermarket in Saint-Henri.
If we attacked Ludger, it's not only to denounce the over-priced meals that they serve, but to attack the way of life of young professional yuppies who invade popular neighbourhoods with their cash, and contribute to the exclusion of the poor in the neighbourhood.
If we attacked the office of Projet Montréal it's not only for their role in the gentrification of the neighbourhood in advancing the argument of social mixity (mixité) and favoring the establishment of new businesses and condo projects. We attacked the office because it's the entire political world that we want to attack. We refuse to be represented and directed by someone else, whether a Prime Minister or a borough councillor. We are masters of our own lives.
If we attacked the IGA it's not only because the food is too expensive, but because we believe that eating well shouldn't be a luxury, but something that's free and accessible to everybody. In this neighbourhood, some people are hungry and we don't want to be sorry observers of the situation.
We're very aware that the targets that were attacked aren't large capitalist institutions. However, these businesses are the reflection, at the smallest scale, of a world that always favors the wealthiest over the poorest, who are always subject to further misery. This is why we wanted to reverse the order of things for an instant, and have it understood that though shuffling through each day we can also bite. We want rich lives, not the lives of the rich.
We were happy the morning after to read in the news that other businesses had been attacked the same night in Verdun.
P.S. Hope we didn't disturb your little Friday night dinner too much.
Des insoumi-ses (ungovernables)