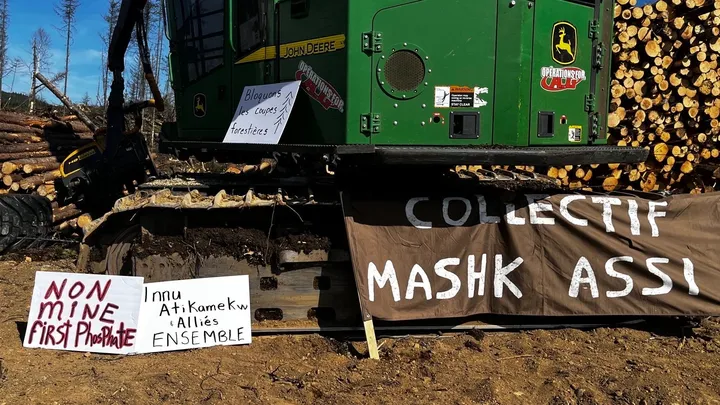 From Collectif Mashk Assi
Enough is enough!
The forests, animals and ancestral sovereignty of the Innu people are under attack from the forestry industry, which is abusively operating on Nitassinan (Innu territory) without the consent of the territory's guardian families.
On May 29, the Mashk Assi collective, an independent group of territory guardians, delivered an eviction letter to seven foresters advising them that their logging operations are illegal. No trees may be cut for profit on unceded land without the consent of the landowning families.
On May 30, the Mashk Assi put the foresters' eviction notice into effect by setting up a blockade at kilometer 216 of Route 175, with the support of numerous native and non-native allies.
The collective needs financial support to continue its struggle. We call on the solidarity and generosity of our Quebec allies, environmental groups, associations for the preservation of flora and fauna, unions and militant groups who oppose the destruction of forests and the violation of the rights of indigenous peoples.
The collective also opposes the Petapan Treaty, which seeks to extinguish the ancestral rights of the Innu to their territory.
The funds raised will be used for our daily needs on the ground, such as food, fuel and the equipment needed to maintain the blockade. They will also be used to support our political and legal efforts to stop the logging and the extinguishment of our rights.
Help us to continue defending Nitassinan against abusive and unconsented logging!
Tshinishkumitinau, thank you!
https://www.gofundme.com/f/aidez-mashk-assi-a-defendre-de-nitassinan