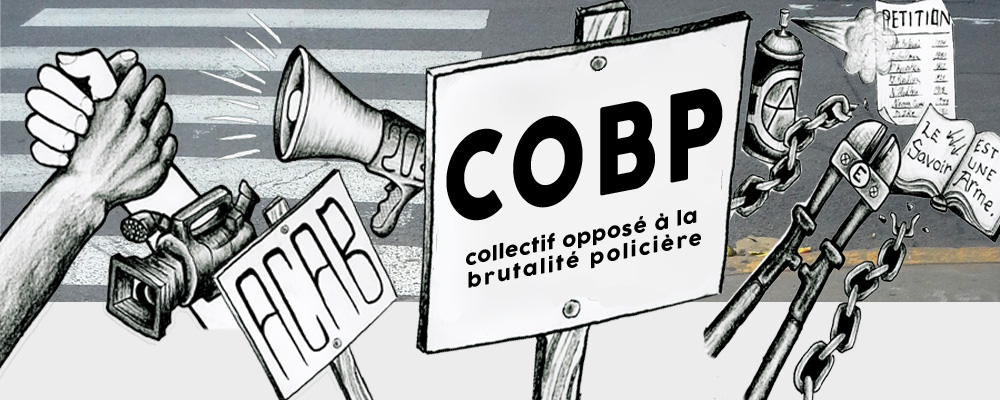 From the Collective Opposed to Police Brutality
The theme this year of the 24th International Day Against Police Brutality is "Police Everywhere, Justice Nowhere: International Solidarity!".
Capitalism is collapsing. Neoliberalism is dying. Those in power cling to their authority as their greed pushes us towards environmental catastrophe, they wage war on solidarity and become more and more monstrous every day that passes.
As they did during the bloody colonial birth of this state and all its kind, the power-holders turn to the police, the gendarmerie, the capital watchdogs to guarantee their ill-gotten gains.
Our continents become fortresses, those who seek refuge are imprisoned, the poor work hard and die, the rich get richer, the pigs get their wages by smashing our heads in.
What they don't know, however, is that we will win.
The fight against police brutality is about removing the fangs of a rabid beast, which walks through our communities like the scarecrows they are. Here to frighten us, to prevent us from getting angry, to keep us small. From Ferguson to Palestine, from Montreal to Rio de Janeiro. From Winnipeg to La Paz, from Port-au-Prince to Santiago.
As we struggle to build a better world, the police, in all its disgusting forms, are blocking our way.
In order for us to move forward, we must get rid of them.
As has been the case for more than 20 years, the Collective Opposed to Police Brutality (C.O.B.P.) began its conscientious work by organizing the International Day Against Police Brutality on March 15.
As we have done since our inception, we will print and distribute our annual newspaper "L'État Policier".
This year, we are turning to our comrades, allies and colleagues who are activists against the police state for articles, comics, designs, poems, opinion pieces or any other contribution to add to our annual journal.
If you would like to submit an article to our journal, please send it to the following address: cobp@riseup.net
The texts must be a maximum of two pages long and may be written in French, English or Spanish. Authors who want their texts translated must let us know within a reasonable time so that we can find people for the translation, and we invite you to send us images to match with your text if you wish. However, the images will be part of both pages.
The final deadline for the journal's content is February 15, 2020.
International solidarity with all those who fight, fight against the State and its armed wing, the police, and flee police action.
COBP (Collectif opposé à la brutalité policière)