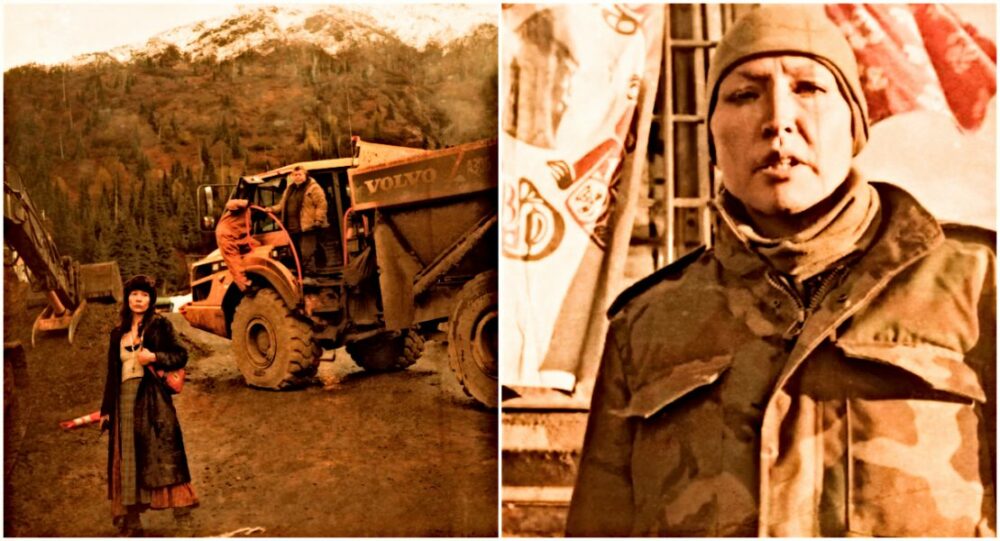 From It's Going Down
In a video statement posted late Wednesday, Gidimt'en Checkpoint spokesperson Sleydo' reported that Chief Dtsa'Hyl of the Likhts'amisyu and Kolin Sutherland-Wilson of the Gitxsan fireweed clan were arrested by RCMP forces, following growing tensions at the presence of Canadian authorities on Wet'suwet'en territory. Over the last few days, blockades against RCMP and Coastal Gaslink (CGL) personnel have been erected and machinery has been "decommissioned" and shut down.
Sleydo' also stated that more law enforcement were on their way to make potentially further arrests, and support was urgently needed. "We need everybody to get your boots on the ground. Please come to camp. We need support for Likhts'amisyu. Support the Wet'suwet'en in the struggle that we've been on for ten years now. We need everybody to just shut shit down. Wherever you are, whatever you can do. If you can't get here, you need to start making noise, start making a fuss. Get things going wherever you are."
UPDATE 10/29/2021: Dtsa'Hyl and Kolin have been released.
Journalist Michael Toledano, who was been reporting on the ongoing struggle against the RCMP invasion and CGL resource extraction, reported earlier in the day:
After Coastal Gaslink pipeline workers used heavy machines to block Wet'suwet'en chiefs from their own land, Likhts'amisyu chief Dsta'hyl disabled the equipment – turning CGL's blockade against them. The Likht'samisyu have now decommissioned 10 pieces of heavy equipment.
We're more than a month into the 3rd wave of blockades against the Coastal Gaslink pipeline. Gidimten has blocked the site where CGL plans to drill beneath Wet'suwet'en headwaters since late September. Likhtsamisyu has used heavy equipment to control access to a man camp.
This is #LandBack. There's no framing this in any Western #colonial lens because colonialism has no idea as to how LandBack can be implemented. They only know that if they relabel it within their own framework it might mean something else. We won't let you do that.
Yesterday, Toledano reported that indigenous blockades had even shut down access to a "man-camp," or encampment containing a high concentration of pipeline workers:
The Likhts'amisyu clan then posted:
After pushing through a Coastal Gaslink barricade of heavy machinery, Likhts'amisyu chiefs and supporters have occupied the far reaches of Wet'suwet'en territory. They are controlling vehicle traffic into a man camp. CGL equipment is blocking Wet'suwet'en from pushing further.
This blockade was put in place after Likhts'amisyu Chiefs and supporters were stopped from entering their own territory on Sunday, Oct 24th, 2021, and worked quickly to establish a camp on the road where they were stopped. Read more on Instagram (via anonymous proxy).
This blockade follows Dinï ze' Woos officially opening a cabin at the Coyote Camp:
[O]n the drillpad site and invites the ancestors to come and stand with us. Before contact, hundreds of thousands of us were here. We coexisted with the animals and protected the Wedzin Kwa since time immemorial. We will always defend Wedzin Kwa River. Dinï ze' Woos delivers a resolute message to CGL investors, "[CGL] said they were going to drill under this river…And that won't happen. We're not going to let that happen."
Two weeks ago, scenes of Native land defenders pushing RCMP officers out of the territory to cries of, "You are on the land of Chief Woos!," went viral, as mass wooden blockades were defended from ongoing police harassment and entrance into the territory.
For future updates, follow @Likhtsamisyu, @Gidimten, @M_Tol, and Yintah Access.