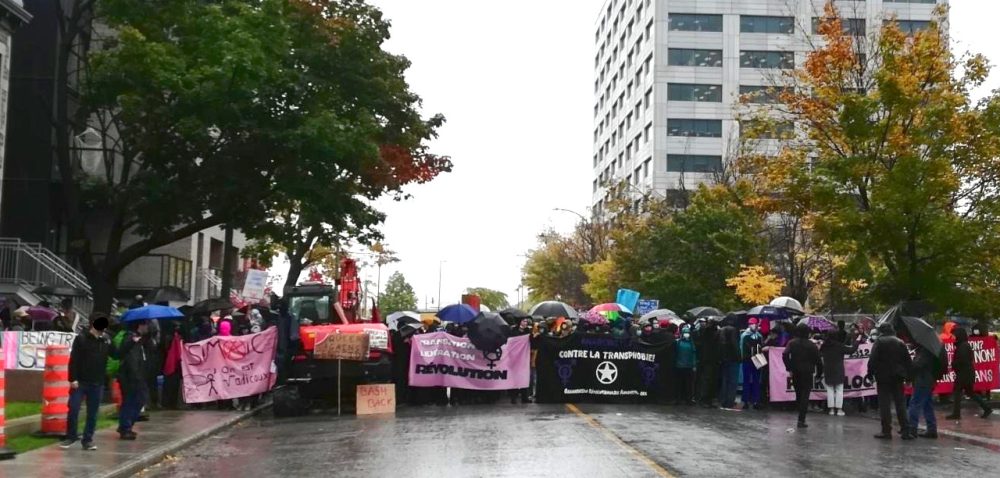 From P!nk Bloc
On October 21st, more than a thousand people acted on a call to counter-protest for the defence of trans youth's rights and inclusive sex ed, called by a coalition of queer and antifascist groups including the Pink Bloc. This call was officially endorsed by more than fifty organisations, including unions, student associations, teacher associations, feminist groups, militant collectives, community sector organisations, and more.[1]
The goal of this action was to block the path of a demonstration organised by the transphobic, homophobic "Ensemble Pour Protéger Nos Enfants" ("Together to protect our children") group in response to a canada-wide call from 1MillionMarchForChildren. The political agenda of this demonstration and its associated groups includes censorship of queer and trans subjects in schools, forcing educators to out trans youths to their parents, and the broad removal of trans healthcare for young folks. Through their statements, they claim to want to protect children, but even the most basic research will show you that these groups want to reinforce parental control on youth, and to give parents the ability to prevent their children from expressing themselves how they want, and from being themselves.
This negates the right to youth self-determination, to freedom of expression, and to safety and security.
In the weeks leading up to their demonstration, political and personal infighting broke out between the groups and individuals involved in their organising,[2] creating division and confusion in their ranks which greatly diminished their turnout.
On our end, we saw a panoply of movements, groups, and individuals join our struggle and decide to form a common front against hate and exclusion!
By 9am on October 21st, we had occupied the space outside 600 Fullum Street with canopy tents, music,[3] and food. By 10am, we had already formed a large crowd despite the rain and the cold, and occupied the whole block on Fullum Sainte-Catherine to Notre-Dame. Across police lines, towards Notre-Dame, around a hundred anti-lgbtq demonstrators had gathered by around 11am. These demonstrators were dissapointed by their low turnout and were kept far away from their planned meeting point in front of 600 Fullum.
Although the struggle is never over, we can all collectively congratulate each other for our enormous success. We succeeded in completely dispersing the demonstrators and were able to declare total victory at 1:30pm, all while ensuring a secure and festive space at the heart of our counter-protest. Our mobilisation efforts in the community and union sectors were unprecedented for this type of action. This resulted in bonds of solidarity that will be crucial in the long term, and allowed us to develop strategies and resources for counter-protestors which will be indespensable in our future mobilisations.
This was a beautiful show of solidarity by and towards our community, affirming that protecting children also means protecting trans children and teens by offering them a safe environment and defending their rights to self-determination.
Young trans folks are able to evaluate their situation, their identity, and their relationship with the world, and to make decisions to improve their lives, whether or not these decisions please their parents. We are the queer and trans youths of yesterday, who affirmed ourselves throughout the years, and who grew into adults who are comfortable in the bodies and identities that represent us. No one has the right to deprive today's youth of this.
Going forward we will continue to develop and form solidarity bonds, notably with struggles against islamophobia, in opposition to homonationalism and pinkwashing which use lgbtq+ rights as an excuse to justify attrocities,[4] and with mobilisations for Palestinian liberation.
Congratulations to everyone who was there on the 21st, and thank you to all who supported us!
We hope to not have to organize another counter-protest for a long time, and we will see you in the streets in solidarity with Palestine!
---
1. List of organisations that endorsed our call to counter-protest
2. See https://ici.radio-canada.ca/rci/fr/nouvelle/2018688/identite-genre-guerre-israel-hamas-gaza for context
3. In light of comments we've received concerning the inclusion of Disney songs in our playlist, we would like to mention that in no way do we support Disney. Playing copyrighted music is a frequently used tactic to ensure livestreams are taken down by social media platforms, and Disney is known to be particularly strict in enforcing their copyrights. Livestreams are frequently used by far-right actors to doxx our comrades. We unequivocally support the BDS movement and calls to boycott Disney for their support of Israeli apartheid, and we will be sure to select different copyrighted music next time.
4. We will soon publish an article developing this idea further