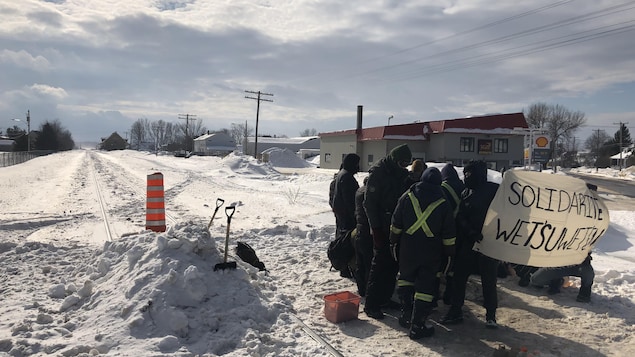 Anonymous submission to MTL Counter-info
Today, Sunday the 16th of February, at 11am, around 20 people gathered at the train station in St-Pascal du Kamouraska. We marched through the town in support of the Wet'suwet'en struggle for the effective recognition of their traditional governance and the defense against the ransacking of their ancestral territories, in relation to the construction of a new energy corridor in British Columbia.
Then a blockade was erected for an indeterminate amount of time on the CN tracks, blocking all rail traffic to the Maritimes.
The Wet'suwet'en demand an end to work by TransCanada on the Coastal GasLink pipeline and the withdrawal of the RCMP from their territory. This country was created by genocide and the invasion of First Nations. The events of the past days demonstrate that according to Canada, might makes right. Our presence here, today, is part of a continuity of solidarity actions and economic blockades that aim to establish a balance of power against TransCanada and governments!
#SHUTDOWNCANADA