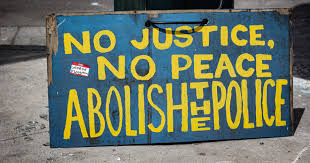 From the Collective Opposed to Police Brutality (COBP)
On March 15, 2021, the 25th International Day Against Police Brutality will take place regardless of the sanitary situation.
Those involved in the organization of this year's edition will opt for adequate alternatives according to the evolution of the pandemic, which, besides, had already hit by March 15, 2020.
Because it bears emphasizing what a brutal year it has been! Through difficult times, as the entire population strives to show solidarity, there is a constant value on which we can always count: the police remain merciless.
Let us remember the final 8 minutes and 46 seconds of George Floyd's life. Let us remember Sheffield Matthews, assassinated by the SPVM in the early hours of October 29th. Let us remember Chantel Moore, Rodney Levi, Eishia Hudson — thirty-four people killed by Canadian police in total over the first 11 months of 2020. Nearly half of those assassinated were Indigenous.
Many activities surrounding the International Day Against Police Brutality will take place before, during, and after March 15, in one form or another. In preparation, we ask you to submit any text messages, images, and video or audio recordings we may share in our annual journal and on our website.
And contact your friends and affinity groups to pass along the message that March 15th is on. Be ready!
In 2021, we are calling for police abolition, pure and simple. For a quarter-century now, we have taken to the streets to force the police to reform, to show signs of improvement — yet year after year, the situation has only worsened. Inquiry commissions are growing in numbers, reports are increasingly damning, and still, nothing meaningful has come of them.
In the end, what is this system of institutional repression and its police force for, here and elsewhere? Who is it protecting? The courts did not protect the women who fought sex offender Gilbert Rozon.
The RCMP did not protect the Indigenous people of New Edinburgh, Nova Scotia, against the racist white people who set their warehouse on fire.
The SQ did not come down on the police officers who raped Indigenous women in Val-d'Or.
The SPVM used, and continues to use, all the tools at its disposal to expel the homeless from their encampment along Notre-Dame Street and many other locations around Montreal.
And finally, as of right now, the Canada Border Services Agency (CBSA) is ruthlessly deporting the "guardian angels" whose thankless work keeps our healthcare system running.
And the situation is the same everywhere. It can be seen in France, in Chile, in Haiti, in Nigeria, in the United States, in Brazil — a worldwide movement that is rumbling and spreading. A movement that is demanding the end of police as we know it. A movement that is shouting out, loud and clear.
Because we have had enough of counting the number of lives lost at the hands of the police, because the tearful sorrow of families and friends has turned to anger, because "injustice" and "impunity" rhyme with "colonial-racist-sexist system", because there are alternatives: ABOLISH THE POLICE.