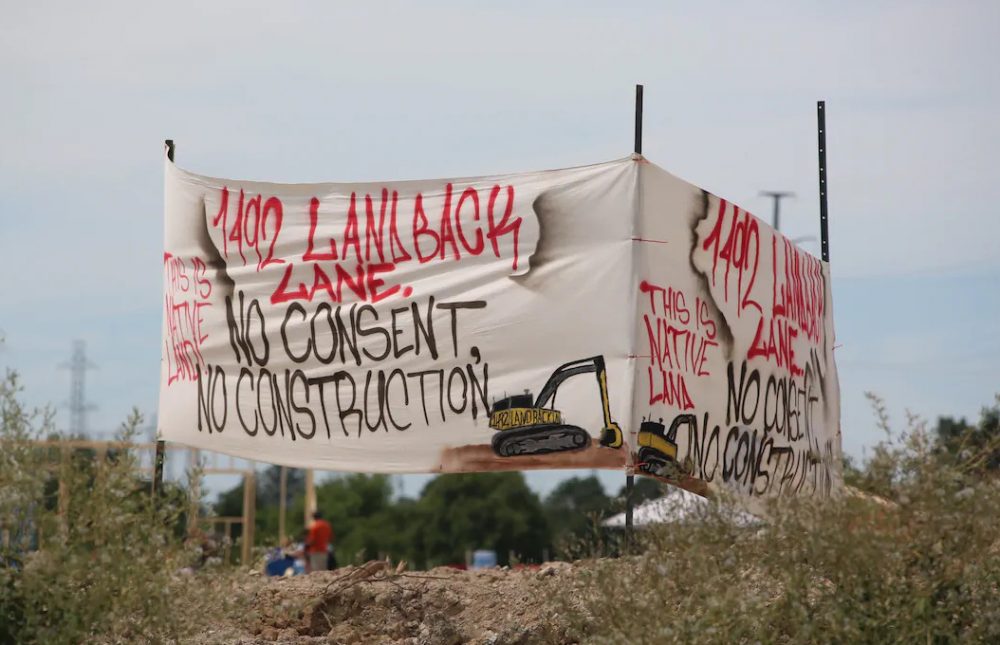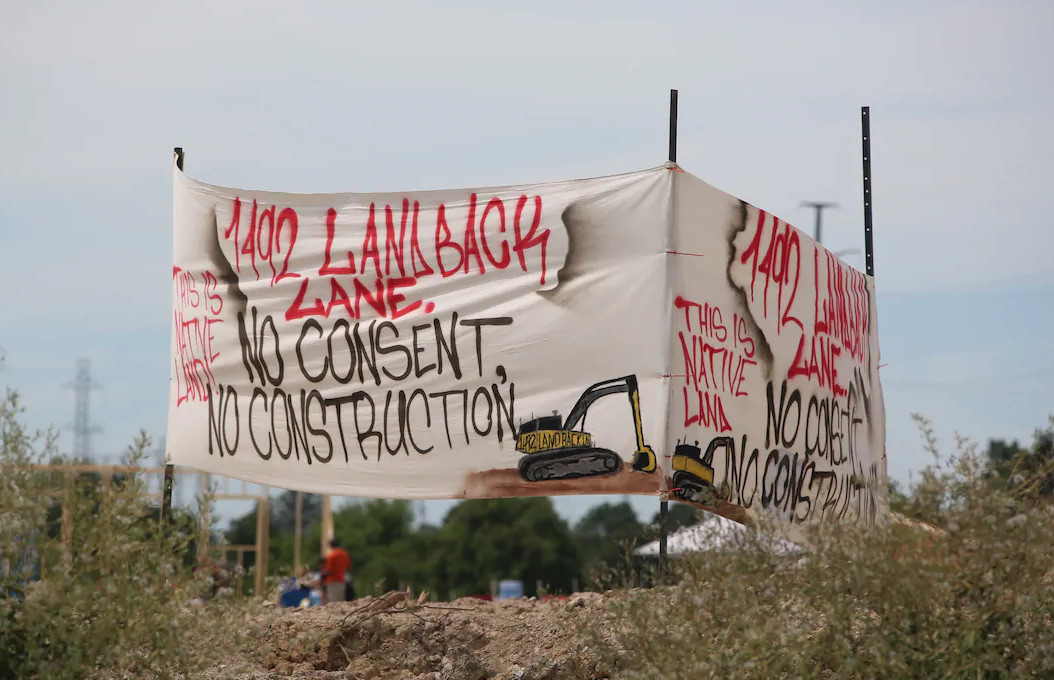 Anonymous submission to MTL Counter-info
After nearly a year of re-occupying a tract of land slated for a settler housing development of around 200 homes, Six Nations members have successfully forced the cancellation of the project. Haudenosaunee land defenders and their supporters have been occupying the 25-acre site since July 19th, 2020. They have survived a raid, dozens of arrests, constant surveillance by the OPP as well as CSIS, and court orders from racist judges.
On July 1st, Canada Day took another hit when it was announced that Foxgate Developments — a joint venture between Losani Homes and Ballantry Homes – had been forced to cancel the project and would be returning deposits to their prospective homeowners.
In the words of Skyler Williams, spokesperson for Land Back Lane:
"I think this is a big statement to Indigenous communities and to all of Turtle Island … these wins are attainable. I think we have an opportunity to be able to say to the feds and the province that if our community says no to these developments, whether that's massive housing developments or resource destruction — if we say no to that and we stand behind it, these wins are possible."
While the developers were able to raze the site, removing all the trees and grass from the area before the occupation began, land defenders have since planted an orchard, a community garden, installed multiple tiny homes, and built two small buildings on the site. Foxgate cited the "evolution of the project from a temporary camp to a site with more permanent buildings" as one of the reasons for the cancellation of their development.
The news of the cancellation is a wonderful partial victory but the struggle is not over; at least 50 people have been charged in connection to Land Back Lane, and people will continue to occupy the site while it remains under injunction. Foxgate also initiated a $200 million lawsuit against the Indigenous land defenders and others in April.
"We do have to take a moment to celebrate those wins, but understand that the work is only just beginning," Skyler said. "This is just the very foot of the mountain."
Land Back Lane is still asking for donations to their camp/build fund by e-transfering landback6nations@gmail.com
You can also donate to their legal fund here: https://ca.gofundme.com/f/legal-fund-1492-land-back-lane
Solidarity to Six Nations land defenders!