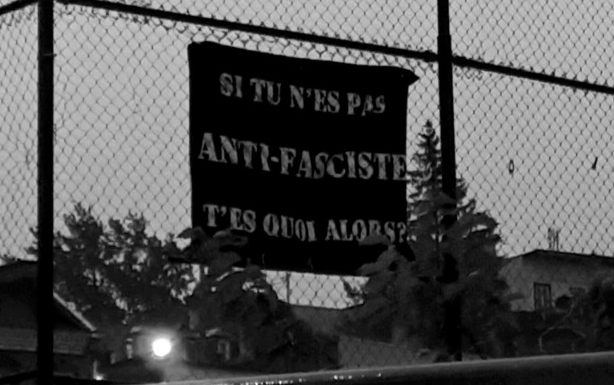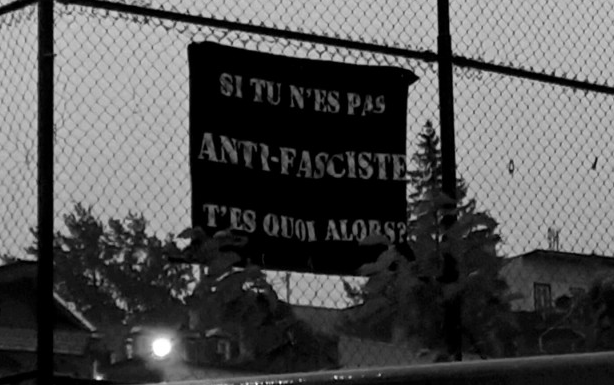 Anonymous submission to MTL Counter-info
A broader definition of fascism
As we know all too well, the definition of fascism tends to vary. In the last few years, politicians have been repeatedly throwing the word at each other, to the point that it means everything and its opposite. A more serious definition that gets thrown about a lot is the "Ur-Fascism" definition written by Umberto Eco. While Eco's article is very interesting and absolutely worth a read, it is too often taken out of context. Eco describes the fascism he experienced, namely 1930s and 1940s fascism, and more precisely, Mussolini's fascist Italia. It is a very historically accurate definition, but one rather limited for our times.
Another approach used more recently is the "duck definition" of fascism. The point is, if it walks like a duck, swims like a duck, flies like a duck and quacks like a duck, then it is a duck. Or, to put it clearly:
If it represses opposition like a fascist does,
If it promotes the importance of one strong leader like fascists do,
If it scapegoats, oppresses and enslaves minorities like fascists do,
If it pushes for a police state like fascists do,
Then it is fascism.
It is a larger, wider definition of fascism, and yes it does include a lot of authoritarian and dictatorial regimes. But does the difference between "Ur-Fascism" and a dictatorship matter to us? While that distinction remains important for scholars, in practice, in the street, in our workplaces, in our houses, the color of the boot stomping on your face forever matters little.
What matters is that we, our comrades, our friends, suffer. What matters is that the mechanisms of the State increasingly become hostile to us. What matters is that this authoritarianism, whatever the shape and name it takes, is for many of us an existential threat. Fighting it is a matter of survival. It does not matter whether the boot is black, brown, red, white or blue: the boot itself must be destroyed.
But under that new definition, a lot of current and past regimes show, at the very least, fascist tendencies. China's enslavement of the Uighurs certainly sounds fascist. Modi's India and its treatment of its Muslim population looks eminently like Nazi Germany. Putin's Russia and its satellite totalitarian states definitely walk like fascists. The current governments of Italy, Hungary, certain states of the USA and Israel, to name only them, make more and more place to supremacists and religious integrists.
To say nothing of ancient regimes. Imperial Rome typically relied on a large militarized state apparatus to maintain order and, more importantly, to keep slaves in line. The reign of absolute monarchies in XVIIIth and XIXth century europe, with a reliance on an elaborate and strong police apparatus, exhibits strong fascist traits.
Myth 1: Fascism is Rare
or : why bother, it's all in the past
And here we come to the crux of the matter. Fascism, authoritarianism, totalitarianism, dictatorships, whatever you want to call it, are rather the norm than the exception when you study States' histories. The fact is, as bad as the situation is today, we don't live in exceptional times. To be free, even relatively free, remains the exception.
And even this relative freedom is constantly threatened. Not only through a violent coup d'état, but simply from people voting them in. India's Modi and Hungary's Orban keep getting re-elected. Israel just resurrected Netanyahu. Millions of people voted for Trump, and will most probably vote for his next incarnation. Italy just elected an openly fascist government. Even Quebec voted in an advocate of Duplessis, an advocate for the return to "La Grande Noirceur".
The current so-called "culture wars" are nothing new: it's the neverending fight between the ancient landed gentry against the rest of us who struggle to be more than simple servants. Conservatives fight to maintain an hierarchy stretching back centuries, and they have nearly unlimited wealth to push their agendas forward. To do nothing is leaving them with all the space they need to distribute their poison. To do nothing is to dig our own graves.
Myth 2: Fascism is Universally Despised
or: why bother, it'll never catch on
The current rise of authoritarian regimes, and the crumbling of the so-called Western democracies, show one sad fact: a lot of people actually like fascism. After all, if you are a part of the faction catered by the fascists, what's not to like? The people you hate have been expelled, enslaved or killed. Their jobs are yours, their houses are yours, their wealth is yours. That's the siren call of fascism, the fact that the scapegoating and massive exploitation of part of the population, whether immigrants, jews, muslims, LGTBQ+ or any other minority, is extremely profitable to the rest of the population.
It is, after all, what makes imperialism and colonialism so attractive. The exploitation and enslavement of part of the world for the benefit of the other is very profitable for us. For instance, Canada is home to 75% of the mining companies of the world, and many people here work in their administrations, their accounting departments, their banking schemes. The same mining companies who keep committing war crimes and other atrocities outside Canada. Now, a factory worker might not have the choice but to work for Nestlé to survive, but an accountant could probably work somewhere else than Talisman Energy, for instance. And the fact is, a lot of people in Tio'tia:ke willingly work for companies like Talisman Energy, companies with blood on their hands. A lot of blood.
One of our main objectives should therefore be to act before they get a taste of what fascism can bring to them. Because once a fraction of the population get a taste of what it can bring to them, once this fraction is well catered (and often well-armed) by fascists in power, it becomes very hard to dislodge them. It's a recurring theme in Latin America, for instance, where we see a middle-class which is only a sliver wealthier than the rest of the population, that fights tooth and nails when their privileges are questioned.
And it's easy for the actual wealthy elites, who own all the media, to push propaganda down their throat. It's easy to make that precarious middle class believe that the menace comes from those living in absolute squalor who just want to survive, and not from the fact that 99% of the wealth they produced is siphoned by them. There's a reason why networks like Fox and TVA always target the left: we are in their way.
Myth 3: Fascism is Self-Destructive
or: why bother, it'll be done in a few short years
We often laugh at the fact that Hitler's thousand years Reich barely lasted a decade. Unfortunately, the nazis are rather the exception; most fascist regimes are very stable. Mussolini was in power for over 20 years, and might have lasted even longer if it weren't for Hitler's hubris. Pinochet's Chile lasted 25 years. Franco's Spain lasted more than 35 years. Salazar's Portugal lasted more then 45 years. And while some of these dictatorial regimes survived through external support (in many case supported by the US), the fact is they managed to navigate both internal and external threats and survived for a long, a very long time.
The definition of the State is usually the determination of who has the monopoly of force in a specific area. Who writes the law, yes, but more importantly, who enforces it. Fascists regimes can be extremely stable because they strive on exploiting part of the population to lavish benefits on another, usually well-armed, part. The well-armed beneficiaries of the regime have no interest in seeing it toppled, and will often brutally defend it.
Fascist regimes typically have two points of failure :
The reliance on a "one strong leader" who, despite State propaganda, is merely mortal. A lot of theses regimes therefore fall apart when the "dear leader" gets sick, senile or finally croak.
When they start believing their own propaganda. They might claim to be the superior race, the superior people, the superior caste, they are merely humans like the rest of us. There's no check to your power like a reality check.
But these are not under our control… If a fascist regime come into power, we cannot wait 35 years… hell, we might not survive the first few weeks.
What should we do?
As bad as our current liberal society is, it does offer us a bubble of freedom to express our ideas, even in the wider imperialist and colonialist context. Minorities have some rights, even if they are very often violated. People can live on the margins of society, even if they are typically ostracized for it. The reality is that, outside of this liberal bubble, most of us would not even have the right to exist. It is something we can see in marxist theory: it is difficult for a social revolution to take place in an authoritarian regime. We need a space to share our ideas, where we can practice our ideals, even as limited as it is right now.
Our goal should therefore be to expand this bubble as much as possible. To test and push the boundaries of our freedoms, so as to expand them even further. How can we do this? In our current context, where the bubble keep shrinking, it implies that we must defend that bubble. As much as we loathe this liberal society, we would be in a heap of trouble if it were ever to crumble. That does not mean that we should play the political game: our time and energy is too precious for that circus. But, as the IWW like to say, we should organize. This means:
Organize protests and denounce its inevitable police repression,
Organize minority defense groups,
Organize right defense groups: anti-racist, anti-borders, anti-landlord, anti-police, anti-prison…
Organize independent media and actually free internet forums,
Organize anti-fascist actions and block fascists events,
Organize solidarity spaces and cooperation networks, and invent new ways to work together,
etc.
As our tiny bubble is threatened, exercising each of these threatened freedoms is antifascist action. As the fascists clamp down on what we can do, what we can say, where we can say it, doing it *anyway* is antifascist action.
Because the liberals won't save us. The signs are everywhere: liberals are poised to sell their freedoms, our freedoms! for a little more security, a little more stability. After all, they have little interest in protecting a bubble which they don't need themselves to survive.
To finish like we started, let's quote Umberto Eco : "Our duty is to uncover [fascism] and to point our finger at any of its new instances — every day, in every part of the world."
History tells us that it is much easier to prevent fascism than to topple it. So let's get to it!
Love and rage!
Dance and riot!
Organize and revolt!