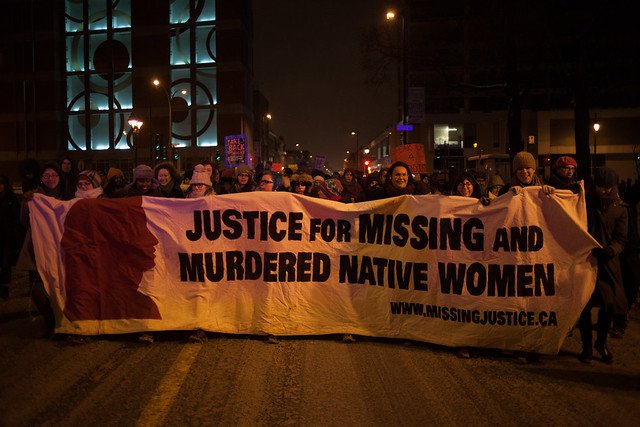 From Missing Justice
The 15th Annual Vigil for Missing and Murdered Indigenous Women, Girls, Trans and Two-Spirit People took place this Sunday October 4th on Zoom and Facebook.
On October 4 at 6:30 pm, the Missing Justice Collective and the Iskweu Project invited the public to the 15th annual vigil to honour missing and murdered indigenous women, girls, trans and two-spirit people, held online because of the COVID-19 pandemic measures. A red dress* installation was also inaugurated in the Parterre du Quartier des spectacles to honour the lives of the missing people, which was dismantled by authorities a few hours later. Opened by the elder Sedalia Fazio, many indigenous interlocutors and artists, including relatives of the victims, intervened to share their testimonies and meditate with those present.
This vigil follows months of increased public mobilization and awareness of the violence perpetuaded against Indigenous, Black people and people of color. It also sadly echoes the very recent news, with the death of Atikamekw woman Joyce Echaquan on September 28th at the Joliette hospital, neglected and overmedicated by the medical staff. Another terrible death, directly caused by the violent systemic racism suffered by indigenous communities, particularly women in Quebec and Canada.
"We have had enough reports and investigations, it is no longer time to ask if there is a real problem, the problem is there, it is blatant, everyone knows about it and it continues to kill innocent people in the most unjust and cruel ways. What we need now is concrete action from the government. It is sad and shocking that it took a video recording of the death of an indigenous woman to get the measure of the problem." said Jessica Quijano, coordinator of Iskweu and organizer of the demonstration in support of Joyce Echaquan.
Indeed, more than a year after the publication of the final report of the Commission of Public Inquiry on the Relations between Aboriginal Peoples and Certain Public Services in Quebec (Viens Commission) and a year and a half after the publication of the Final Report of the National Inquiry on Missing and Murdered Aboriginal Women and Girls, no action has yet been taken. This report made nearly 250 practical and concrete recommendations to governments, 21 of which were specifically addressed to the Quebec government. The report denounces the massive indifference suffered by Aboriginal populations, particularly in Quebec, where the health system has actively participated in the disappearance of children.
*The REDdress project was initiated by visual artist Jaime Black, Métis, in 2010 and features red dresses worn on hangers suspended from trees. The installation aims to commemorate and bring attention back to Women, Girls and Trans & 2-Spirited Missing & Murdered People (FFPT2EDA). Since then, many organizations have followed suit on October 4th. On this national day of solidarity for the families of the FFPT2EDA, the Miissing Justice collective also inaugurated a similar installation in the Parterre du Quartier des spectacles in Tiohtià:ke.